Not all scissors are made equal, and if you've ever tried to cut fabric with scissors that have been used for cutting paper, you'll know what I mean!
There are many different kinds of scissors, including scissors for quilting. Choosing the best quality is important, good tools = good job!
Many of you will be using some kind of fabric cutting device however, you do still need good pairs of scissors for some tasks.
Of course, you can go to a dollar store and buy some but I don't recommend this. I've tried it and it's a false economy, a few cuts and they break or go blunt!
Scissors for Quilting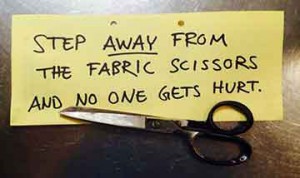 Dressmaking Scissors – My own scissors are Kai 7300 12 Inch Professional ScissorsThey were bought as a birthday present  and are still as sharp as the day I bought them.
One reason for this is I've NEVER lend them out, no one gets near my sewing scissors. I just know they'd get used for cutting paper, not good if you want to keep them sharp!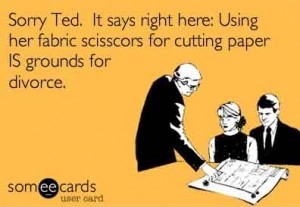 There's been many a fight originating from using fabric scissors for other things!
If you only have one pair of scissors in your toolbox then it should be good quality dressmaking scissors.

Fabric Snips – Fiskars excel in making snipping scissors for all tasks and do a range of soft touch handles, much easier on the hands if you use them a lot. The Fiskars 8 Inch Ultimate Craft Snip are great for when the fabric cutter doesn't quite give a clean cut.
The craft snip cuts right to the end so can snip to complete the cut. The blades have a titanium coating, 3 times as hard as stainless steel, so are durable and long lasting. The serrated blades help to keep the fabric in place while you cut.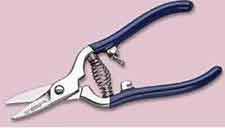 Quilting Snips – If you've ever made a rag quilt then you'll understand what I mean when I say this can cause blisters! Making 1/4″ snips along every seam can be a painful experience using regular scissors.
The Heritage Cutlery 6-1/2-Inch Spring Loaded Rag Quilting Snipscan help you avoid this as you don't put your fingers inside the handle, but over the top. Then there is the spring loaded action, makes it easy to whiz along those seams snip snip snipping! There's also locking latch for when they're not in use.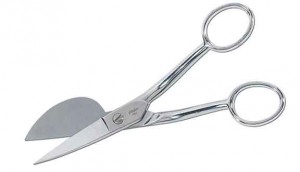 Appliques scissors – These are odd looking scissors with one of the blades looking like a duck's bill. They are designed this way so you can push the edge you want to cut up to the sharp blade. The the "ducks bill" keeps the other part away from the blade.
I like the Gingher 6 Inch Knife Edge Applique Scissors because the handles are offset making it easier to see your work. They get very close to the edge so are useful for all kinds of sewing tasks, not just applique. If you sewing a chiffon hem trimming the excess and leaving a neat finish is easy with these scissors. They can also be used for rug making and embroidery.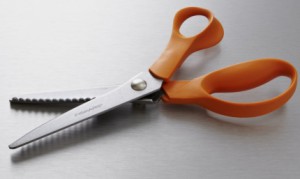 Pinking Shears – Not needed so much for quilting but handy to have none the less. Sometimes if I'm doing a small project I'll use these to finish of the seam edges. They also good for giving a fancy edge on applique,
or finishing edges on easily frayed fabric.
There are many different makes, but the ones I use are  Fiskars 12-94458697WJ Pinking Shears, 8 Inch, Orange Again, I've had these a few yrs and they're still perfect for cutting. I find them easy to use because of the ergonomic handle design, my wrists don't start to ache a few minutes into using them! They are high-grade steel and cut right to the edge.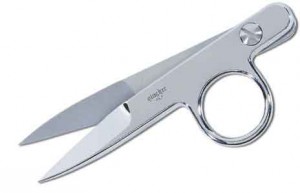 Thread Nippers – If your sewing machine doesn't have an automatic thread cutter then you should have a pair of these. I find it almost impossible to thread a needle with thread that hasn't been cleanly cut. If you hand quilt then you'll also need a pair for that.
Mine are the Gingher 4.5 Inch Knife Edge Thread Nippers, a lovely pair of Gingher 4.5 Inch Knife Edge Thread Nippersthread snippers giving a clean cut every time.
How to Care for Scissors
Finally, here are a few tips on caring for your scissors. Good quality scissors will last a lifetime if they're cared for properly.
Don't use them for any other purpose than your sewing.
Wipe clean with a soft cloth after us.
Keep the pivot screw oiled (wipe off the excess) and keep it clean.
Keep them sharp by taking the to a professional scissor sharpener. You can get sharpening gadgets for home use, but they don't do such a good job.
I know this seems like a lot of pairs of scissors for quilting, but having the right tools for the job makes things much more seamless (pardon the pun!). How many pairs of scissors do you have and which are your favorites?