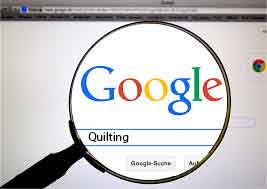 Have you got a list of your top quilting websites, shops and blogs? There are so many I decided to share a few of my favorites with you, just in case they aren't already on your list!
Before I list personal blogs, I'll start with the more well-known ones, where you can shop, subscribe and download. It's hard to choose a favorite so these are in no particular order!
Online Quilting Shops
Keepsake Quilting calls itself "America's Favorite Quilt Shop" having started way back in 1987, by Judy and Russ Sabanek, (that makes me feel old!). They don't sell sewing or quilting machines, but they do sell everything else quilting related. If Keepsake Quilting don't have it then it probably doesn't exist!
There is usually a competition to enter with some pretty fantastic prizes, this month (October) it's the "Fabric for Life" competition. Grand prize is as it says, a 20 yr supply of fabric and the second prize is a Babylock Lyric Machine!
---
 Fons & Porter Love of Quilting is a sister site to Keepsake Quilting. Although this site is mainly for their magazine there's plenty more to enjoy. There are patterns, quilty forums, crafty tv, classes and LOTS of free resources (I like free!) I visit this site regularly and it's constantly being updated with new stuff, a good one to visit.
These are the 2 I visit the most, but if you're looking for anything more local then Generations Quilt Patterns keeps an updated directory of over 4000 listed by area.
---
Quilting Websites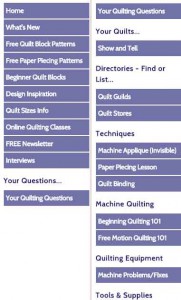 Mentioned in the previous section, Generations Quilt Patterns is another of my favorite sites and again, there's lots of free stuff.
Julie Baird, (author/builder/photographer of the Generations Quilt Patterns website) has a wonderful way of writing, easy to read and a her sense of humor comes through in her writing!
She has beginners quilt blocks and provides online classes as well as a worksheet for calculating quilt sizes, as she says "Quilt Sizes on Patterns are NOT Consistent"!  Of course there's much more than just that on this informative quilting site, it's a great resource.
---
Crazy Mom Quilts is another favorite and although it's run on the free Blogspot platform, Amanda Jean has done a good job here. Amanda Jean Nyberg is  the co-author of the book Sunday Morning Quilts. She designs original patterns and fabric, teaches and is also a Craftsy instructor.
Amanda Jean has finished more than 260 quilts in 15 years as a quilter, and "looks forward to the next 260!"  She describes herself as a scrap hoarder/lover and you can see that with some on the excellent tutorials she has for quilt projects using scraps.
---
Wendy's Quilts and More is full of beautiful quilts, I just love her designs. Wendy is an accountant who loves to sew, she started at a young age and says she's "been sewing ever since"!
On her "Finished Quilts" page she showcases some exuisite quilts and her Flower Garden Table Runner was the winner of the applique section of the Online Bloggers' Quilt Festival  in Spring this year (2015). She doesn't have tutorials, but if you're looking for inspiration then this is one site you should pay a visit too!
---
Finally, I'm going to mention My Quilt Infatuation. Kelly describes herself as a "a wife, mom, modern quilter, and pattern designer saving my sanity, one quilt at a time!"
I love her use of color and that she has free tutorials for many of the quilts she makes.  Kelly also has lots of useful links, lots more sources for inspiration!
---
Let me know your favorite quilt shops and blogs in the comment section below and I'll add them to this article.