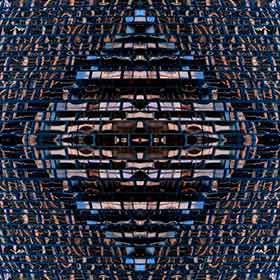 I found this article while I was browsing around the quilting world news. It caught my attention enough that I wanted to share it with my readers!
You wouldn't think that architecture and quilting have anything in common would you?
Well, if you visit the Mississippi Valley Textile Museum's new exhibition, you'll certainly change your mind!
Featuring the work of Diane Laundy and Robin Laws-Field  "Surface Fabrications," opens on December 8 and runs right through to February 13th, plenty of time to arrange a visit.
Diane Laundy says "There is an inherent sense of order and structure in both quilting and architecture,that lends itself to the creation of pattern and rhythm." 
She brings her photographers eye and her quilters design sensibility to the skyscraper. Here, she discovers poetry, playfulness and beautiful, original patterns.
"I approach architecture as a fabric to be cut and shaped by my viewfinder, and patterned and embroidered by the world around it."
Diane's creations are presented on silk and archival paper, then the quilts hung by suspending on rods.
Robin Laws-Field was look for inspiration and a fresh approach to her fibre art and used her camera lens to zoom into the textured surfaces of places she was visiting. Suddenly, Robin realized that she'd discovered a new way to bring abstraction to her work. The images in this exhibition come from sites around the world and they all focus on surfaces, for example:
peeling paint on a shutter in Turkey
 footprints in the sands of India.
Robin then interprets these using range of different media, from paint and dye through to yarn and yarn. You'll always see a threaded needle winding its way through the design.
Go along and be dazzled and impressed as Diana and Robin, two talented artists, show a new way of looking at the world. "Surface Fabrications" runs from December 8 until February 13, 2016. The official opening event is on Saturday, December 12 from 2 to 4 pm. The Mississippi Valley Textile museum is located at 3 Rosamond St. in Almonte.
"Woven Photography" at Textile Museum: December 8 – February 13 | The Millstone.