Downloadable quilt patterns have become increasingly popular among quilters in recent years.
With the rise of digital technology, it's now easier than ever to find and download patterns online. In this article, we'll take a look at where to find these patterns and how to download and use them.
Where to Find Downloadable Quilt Patterns
Quiltable
I particularly like Quiltable because they have an extensive collection of quilting patterns that include traditional and modern designs. starting at just a few dollars.
Quiltable has patterns for both beginners and experienced quilters.
You can browse through the site's collection of quilting patterns, and choose from a variety of categories such as baby quilts, bed quilts, table runners, and wall hangings.
As I said above, the website's quilting patterns are downloadable, and users can purchase and download them in PDF format.
The quilting patterns come with detailed instructions and diagrams that guide users through the process of creating their quilts.
Quiltable also provides tips and techniques on how to choose fabrics, cut and piece fabrics, and finish the quilts.
One unique feature of Quiltable.com is its custom quilt design service.
Users can upload an image of their desired quilt design, and the website's team of designers will create a custom quilting pattern based on the image.
This service is ideal for quilters who want to create a quilt based on a specific design or theme.
Overall, Quiltable.com is a valuable resource for quilters of all skill levels.
The website's collection of quilting patterns and its custom quilt design service offer a wide range of options for quilters to create unique and beautiful quilts.
Other sources of Downloadable Quilt Patterns
There are many websites and online marketplaces where you can find downloadable patterns.
Some popular options include Etsy, Craftsy, and Quiltable as I mentioned above.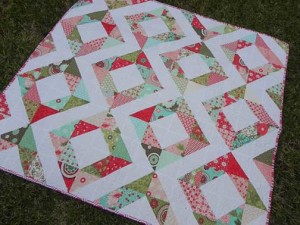 Many fabric stores and quilting magazines also offer patterns for download on their websites.
When searching for downloadable quilt patterns, be sure to use specific search terms that describe the type of pattern you're looking for.
For example, if you're looking for a pattern for a baby quilt, try searching for "downloadable baby quilt patterns" or "digital baby quilt patterns."
How to Download and Use Downloadable Quilt Patterns
Downloading and using downloadable quilt patterns is a fairly straightforward process. Here's a step-by-step guide:
Choose your pattern: Browse through the selection of downloadable quilt patterns on your chosen website until you find one that you like.
Purchase the pattern: Once you've found a pattern you like, add it to your cart and complete the purchase process.
Download the pattern: After you've completed the purchase process, you'll typically be given a link to download the pattern. Click on the link and save the file to your computer.
Print the pattern: Once you've downloaded the pattern, you'll need to print it out. Most downloadable quilt patterns come with instructions on how to print the pattern to the correct size.
Follow these instructions carefully to ensure that your pattern is the correct size.
Use the pattern: Once you've printed out the pattern, you're ready to start quilting! Follow the instructions provided in the pattern to create your quilt.
Tips for Using Downloadable Quilt Patterns
Here are a few tips to keep in mind when using downloadable quilt patterns:
Read the instructions carefully: Before you start quilting, be sure to read through the instructions carefully to make sure you understand each step.
Check the pattern size: Double-check that the pattern has printed out to the correct size before you start cutting your fabric.
Use high-quality paper: To ensure that your pattern is easy to read and will last throughout the quilting process, use high-quality paper to print it out.
Keep a digital copy: Once you've downloaded the pattern, it's a good idea to keep a digital copy on your computer or other electronic device. This way, you can refer back to it if you need to. Create a folder on your computer and save the patterns here, this way they're easy to find!
Downloadable quilt patterns offer quilters a convenient and cost-effective way to access a wide variety of patterns.