It's important it is to have a reliable, efficient machine and generally quilters know this by harsh experience! Some computerized sewing machines leave a lot to be desired but, there are some exceptions to the rule. The Janome Memory Craft 6300p is one of those exceptions.
It's pricier than some but, as the old saying goes, you get what you pay for. If you're serious about your quilting and sewing it's worth the investment.
Read through all of the robust features the Janome Memory Craft 6300p has to offer and you'll see why I love it!
Main Features of the Janome 6300
66 stitches; 4 buttonholes – Great selection of utility and fancy stitches.
LED display – shows stitch number and alerts, including low bobbin indicator
Auto thread cutter – with memory feature
Monogram stitches – script and block
Drop feed control – a must for quilters
Knee lift – great for hands-free control
Needle position memory – remembers your settings
Independent bobbin winder 
9" sewing space – needed for larger projects
Accessories great selection including a walking foot
Automatic thread tension control
Built-in needle threader
Snap-on presser feet
5-piece feed dog
Locking stitch button
5 memory banks
Janome Memory Craft 6300p
The Janome 6300 is a Serious Sewing Machine for Serious Users!
The Janome Memory Craft 6300p isn't really a beginners machine, but with a bit of help someone just starting out could learn to use it.
Free motion quilting is handled with ease, but most quilters also use their machines for regular sewing projects, the MC 6300 is great for that too!  This sewing machine for quilting can handle both quilting and sewing projects with ease – and precision.
66 Stitches and 4 Buttonholes
The 6300p comes with 66 built-in stitches and 4 buttonholes, you'll probably never use them all, but hey, it's great to have the choice!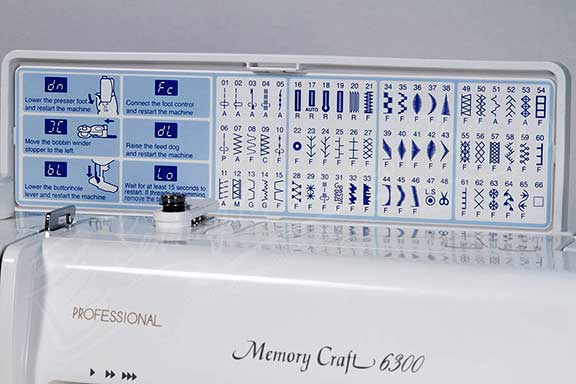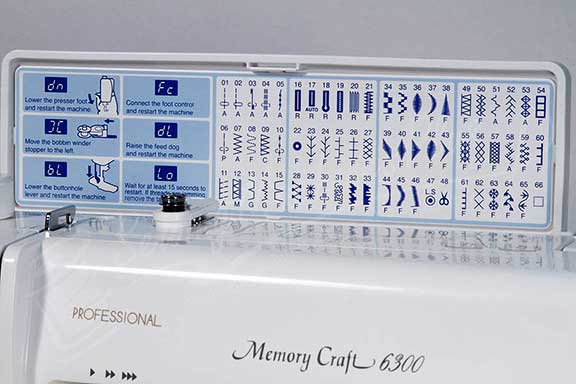 It's easy to select the stitch you want to use. Below the width and length buttons, you'll find a panel of "stitch selector" buttons that allow you to quickly jump to the stitches you want.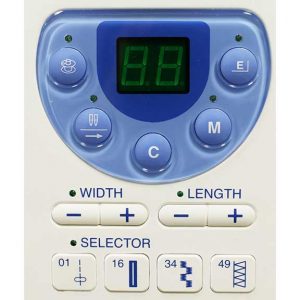 Stitches are broken down into four categories, so you can easily find the stitch you're looking for.
A big advantage to using a better quality sewing machine that it comes with lots of nice automatic features like the thread tension and bobbin winder.
The automatic thread cutter feature, is also a great addition  The memory function attached to this feature remembers where and when to cut the thread.
Of course, there's also a built-in automatic needle threader to help you get started quickly.
Memory Functions
The  Janome will learn and remember your different settings, great for productivity.
As well as thread cutting, this machine will also memorize your preferred up/down needle position.
With five memory banks, the 6300 can also recall your last stitch, so you can continue where you left off.
Speed and Stitch Customization
With the touch of a button, you can adjust the length and width of stitches and choose your preferred sewing speed.
With a 5mm maximum length and 7mm maximum width, there's plenty of choice. The Janome also makes it easy to adjust the width and length by pressing the "+" or "-" buttons.
You have the option of customizing your stitches by using the combination and individual stitch editing functionality.
There's a twin guard feature which automatically adjusts the width for certain stitches. The twin guard feature automatically adjusts the width for certain stitches, and some stitches (those not suitable for twin needles) can't be used.
Foot Pressure Adjustment
Hands-free operation that quilters love! The knee lift allows you to continue sewing with both hands uninterrupted.
The foot lift is extra high for added convenience, and you can adjust the pressure to your liking. This Janome comes with four pressure settings: 0, 1, 2, and 3. Three is used for regular sewing, while 1 is ideal for fine fabrics.
Easy-to-Read LCD Screen
The LCD screen is bright and easy to read, and displays all other important information as well as your stitch selection.
Speed Dog Adjustments
You can quickly and easily drop the feed dog, perfect for sewing buttons and  free motion quilting.
This is operated using a simple lever, located on the base of the machine.
The feed dogs will be automatically lowered when using certain stitches.
Multiple Accessories Included
The Janome Memory Craft 6300p comes with an excellent bundle of accessories, with a ton of optional ones available.
Standard accessories include:
1/4 Inch Seam
Foot 3-way Cording Foot
Automatic Buttonhole Foot
Blind Hem Foot
G Bobbin (specialized)
Open Toe Darning
Foot Low Shank
Open Toe Satin Stitch Foot
Open Toe with Quilting Guide
Overedge Foot
Satin Stitch Foot
Walking foot
Sliding Buttonhole Foot
Zig-Zag Foot
Zipper Foot
CONS
Very few!
No free arm – a bit of a glaring omission
Lack of light – just the one above the needle
PROS
I'm not going to go over everything listed above again, but these are the best points.
The bobbin winder is brilliant, smooth and fast!
Auto thread cutter works really well on this Janome, not the case for all sewing machines.
Included accessories
Easy stitch selection
Smooth operation
Robust
Working space
Conclusion
The Janome 6300p sewing machine  is a professional-level machine that offers memory and customization many standard sewing machines can't offer.
The large working space, ease of use  and included accessories make it well worth the purchase price!
Summary
Reviewer
Review Date
Reviewed Item
Janome Memory Craft 6300P
Author Rating