Janome HD3000
You know, sometimes you just want a basic sewing machine that does a top notch job without a lot of bells and whistles. Well the this Janome claims to do just that! 
Not everyone wants or needs a computerized sewing machine and can sometimes feel intimidated by all the technology, especially if they're transitioning from a granny inherited machine.
Your budget will also dictate what kind of sewing machine you purchase. Better to buy a good quality basic machine than a cheap computerized one. 
Janome HD3000
The Janome HD3000 claims to be "Heavy Duty" (hence the HD in the title). From Janome's "blurb":
"Remember the old all-metal sewing machines? Maybe your mother or grandmother had one. Those machines couldn't be beat when it came to sturdiness and durability. But you had to be an Olympic weight lifter to pick one up.
Like your grandmother's machine, they have an all-metal body. But unlike your grandmother's, it's made of special, lightweight aluminum. So while these new machines live up to the Heavy Duty in their name, they're only about two pounds heavier than a comparable model with a plastic body."
On the face of it, it looks good, is it any good for quilting and is it worth the money? Let's take a closer look and find out.
Janome HD3000 – Functions and Features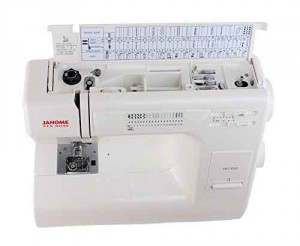 On the top tray lid there is an instructional guide which gives you the feet and settings for different tasks. This is also where your accessories are stored for handy access.
The tutorial panel on top of the machine also advises on which presser foot to use and the ideal setting length and width setting for each stitch option.
The Janome HD3000 comes with all the standard features you'd expect on a mechanical sewing machine:
7 piece feed dog
Heavy-duty frame

Built-in needle threader

Reverse stitch lever

Snap-on presser feet

Foot pressure adjustment

19 decorative and utility stitches
One-step buttonhole
Manual, lay-in thread tension
Foot pressure adjustment
Push-pull bobbin winder
Stitch selection dial
It's easy to select your stitch by using the dial located on the right of the machine below the balance wheel. As you turn the dial, a little red light shows underneath the diagram showing an image of the stitch.
The stitch length and width adjustment are set to the right of the stitch selection guide. These are easy to set using the slider controls.
The Janome HD3000 In Action
The Janome gives a neat stitch and manages 6 layers of denim easily, excellent for doing side seams on denim jeans. Of course, this means that it should sew a quilt sandwich. One lady said in her review comment:
"As soon as I received my Janome, I tested it out on a thick layer that my old machine couldn't get through. The Janome sailed over it with ease. I also tested it on several layers of canvas and this machine breezed right over them.
I mainly quilt and do a little garment sewing, and so far, this machine is a dream. I don't need a lot of fancy stitches, so this Janome has everything I need. I wanted something non-computerized because that's one less component that can eventually go bad."
Excellent news and good for quilters!
This video gives a tutorial on getting started on the Janome HD3000
Although this is a heavy duty machine it's light enough to be able to be moved easily, handy for quilting groups and workshops.
Maintenance is easy as the Janome HD3000 never needs to be oiled, just the bobbin area and hook race should be cleaned regularly.
The manual is clear and easy to follow, handy if this is your first machine and you're a beginner at using a sewing machine.
Included Accessories
7 snap on presser feet
Blind stitch hem foot
Hemmer foot
Overedge foot
Zipper foot
Transparent buttonhole foot
Zigzag foot
Automatic buttonhole foot
Extra needles
Extra bobbins
Lint brush
Seam ripper
Screwdriver
Quilting bar
Hard cover
Owner's manual
FREE BONUS Value Package Includes:
 Janome 1/4″ Seam Foot
 Janome Empty Bobbins (10 pack)
 Janome Universal Needles – Size 12 (Pack of 5)
Janome Universal Needles – Size 14 (Pack of 5)
Cons
For what the machine is described as, there aren't many. It doesn't have a needle up/down control or a speed control. Not deal breakers unless you want to teach young children how to use a sewing machine.
I'd like to have seen more presser feet included in the price.
Pros
The Janome HD3000 has the ability to pretty much sew through everything you throw at it!
It's very handy for taking to groups as the foot pedal and power cord can be placed into the harp space.
The carry handle comes up through the cover and everything is kept contained and safe.
I like the built in needle threader, very handy if you have eyesight like mine!