Juki Exceed F600 Quilt and Pro Special
Historically, Juki have been known for their industrial sewing machines, only recently moving into the domestic market (history here) around 2009. I've previously looked at the basic Juki long arm quilting machine, this time I'm checking out the more sophisticated Juki Exceed F600 Quilt and Pro Special, one of Juki's computerized domestic sewing machines.
This Juki quilting machine comes with an array of functions and features and Juki claim that you can "exceed your sewing and quilting expectations" with the Juki HZL-F600 Full Sized Computer Sewing and Quilting Machine Let's take a closer look at these features and see how they fare against other computerized sewing machines of a similar price, like the previously reviewed Singer S18
Functions and Features
Direct Pattern Selection – This Juki quilting machine comes with a good variety of stitches and patterns.  You can save up to 70 patterns, combine stitches and recall them easily with the touch of a button. There are also 67 stitches specifically for the quilter.
Large LCD display – The 33mm x 66mm display lets you easily see your and easy pattern selection.
Sensor Buttonhole – Unique to Juki, this sensor method will sew perfect buttonholes no matter what type of fabric or overlapped sections.
Extra Wide Surface Area – Great for quilters at 8″ wide x 12-1/4″ long!
Auto or Manual Tension – You can choose whether to use the automatic tension or use the manual one to create special effects.
Easy Threading System – You can thread this machine seated and it has automatic needle threading.
Push Button Thread Trimming – I love it when this function is provided! You can trim the thread with a push button or using your heel on the foot pedal.
High Speed – The Juki f600 can sew up to 900 spm. It also has a slow speed setting for more control with the finer work on your project.
Walking Foot – I've said this before, but the walking foot  is a must have for quilting and getting the even feed with the layers of fabric,
Knee Lifting Lever – Good for keeping your hands free and the presser foot lifts to 12mm when using the lever.
Box Feed – 7 dog box feed dog system ensuring even feed no matter whether you're using lightweight or heavy fabrics. The diagram below illustrates the difference.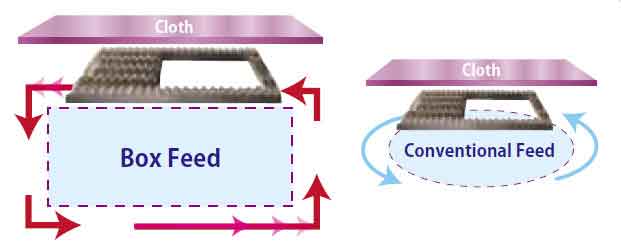 Button Sewing – Use the Juki to sew your buttons on!
LED Lights – 2 bright lights for illuminating the work area.
Presser Foot Adjustment – The pressure can be adjusted depending on the type of fabric and layers to be sewn.
Drop Feed Dogs – As you would expect, the feed dogs can be dropped, great for free motion quilting.
Variable Needle Position – You can place the needle where you need to AND move the position of a complete pattern without changing the width. This means you can also taper the zig zag stitch to the center, left or right.
Free Arm – Free arm for those awkward places such as cuffs and hems.
What's in the Box
With the Juki HZL-F600 Full Sized Computer Sewing and Quilting Machine Juki Exceed F600[/easyazon_link] you get all the accessories you expect to find with a sewing machine in this price bracket. Particularly welcome is the walking foot!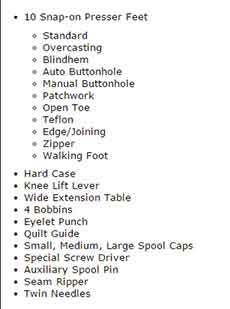 Warranty Information (US) 5 Years Mechanical, 2 Years Electrical, 90 Days Adjustments on defects in material or workmanship.
Weight 21.6 lbs, 17.5″ (W) x 11.4″ (H) x 8.2″ (D)
How does the Juki HZL-F600 perform?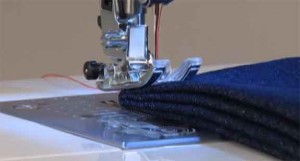 This is a super quiet machine, if you've owned a noisy machine then it takes a bit of getting used to! The foot pedal is very smooth and easy to push down, both for sewing and using the thread cutting function. The #2 setting gives an automatic 1/4″ seam for quilt blocking and it stitches beautifully. It really does manage multiple layers of thick fabric.
The Juki HZL-F600 Full Sized Computer Sewing and Quilting Machine  is a workhorse, feedback from users after a year of extensive use is very positive. Juki have kept the tradition of building quality machines as they've moved into the domestic market.
This video walks you through the functions and features of the Juki Exceed F600. It's always useful to watch a video as you can get an idea of the size of the machine and also here if it's actually as quiet as claimed!
Cons
This is not a beginners machine, you need to make a quite a few adjustments to get the settings perfect for your project.
It's not really portable for taking to groups and classes although with this machine you'd expect it to be solid and heavy.
Pros
Excellent stitch quality and quiet operation.
The instructions are easy to follow and the automatic threading system works well (not the case with all machines).
There are a lot of nice shortcuts, like easy to access buttons, I think the Juki team have consulted with sewers and quilters for this one!
The automatic buttonhole foot works well, fit it to the machine and it will do the work for you.
The walking foot is included.