Brother cs6000i Sewing Machine Review
Do you need a budget sewing machine for quilting? You've no doubt found out that having quilting as a hobby can be an expensive one!  This Brother sewing machine review should help you to make your choice.
The Brother cs6000i appears at first glance to fit all the criteria of a budget sewing machine suitable for quilting so let's take a look.
Functions and Features
The Brother sewing machine has a wide range of functions and features, more than you would expect for this price.
It comes with 60 built-in stitches – as you can see from the image, there are 7 dedicated quilting stitches as well as 7 different styles of buttonholes, 20 decorative stitches 20 stitches for constructing garments. The decorative and ziz-zag stitches can be set to a super wide 7mm and the buttonhole feature is a one-step automatic one.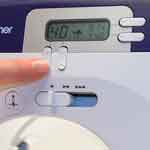 The LCD display lets you easily see your stitch selection and has a simple touch button operation. This, along with the slide control to adjust the speed give you great control over all you sewing tasks. You can also have the programme set to either needle up or down position at the end of the sewing.
I don't know about you, but some sewing machines are a pain to thread! The Brother features an easy threading system with a numbered diagram making it easy to get threaded up. Along with the drop in bobbin, automatic thread cutter and automatic needle threader, that's the thread parts taken care of!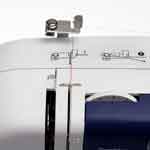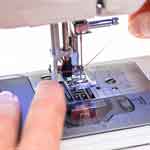 A really useful extra feature is the extension table, sometimes not included even in the pricier models. It also has a built-in free arm for sewing cuffs and sleeves and those fiddly hard to get to bits!
There is a super bright work area, making it easy to see when you're working with darker fabric and threads, and it can be operated without the foot control by using the stop/start button. It has a quilting guide etched onto the needle plate and a clear bobbin cover to let you see if your bobbin thread is getting low.
It's light weight so portable for taking to groups and classes.
As you would expect in a machine that has "quilting" in the title, it features drop feed dogs for free motion quilting and embroidery.
The Brother sewing machine comes with a range of accessories including the all important walking foot and extension table.

Brother CS-6000i Performance
So that covers the main functions and features of the Brother cs6000i so how does it perform?
At this price range, the Brother cs6000i is going to have flaws. It will sew layers, but not too thick or you'll hear it protesting. Don't use cheap thread or you'll end up with bunching underneath and think you've got tension problems!
This video lets you see it in action, check out the quilt running through the machine with ease!
Cons 
The light is dim, not as described, you'll definitely need some sort of angle poised lamp when you sew.
As I mentioned, it doesn't like cheap thread or very thick layers.
It's light weight which can be an advantage, but it's not a workhorse that's going to put up with hours and hours of heavy use like the Juki F600.
Pros 
Lightweight
Walking foot and extension table are included
Good for Beginners