Brother PQ1500S High Speed Quilting and Sewing Machine
The Brother PQ1500S High-Speed Quilting and Sewing Machine is a domestic quilting sewing machine suitable for beginners and experienced quilters. With an array of functions and the fabulous price point, it would make a great addition to your sewing room. This sewing machine is a good machine for tackling your quilting projects and is great for larger quilts with the large throat space. It's has a high-speed straight stitching function sewing up to 1,500 stitches per minute!
FUNCTIONS AND FEATURES
Sew up to 1,500 stitches per minute – If you're in a hurry you've got the fast speed when needed. Accurate stitches are still as good at the fastest speed.
Clean straight stitch – All sewing machines should have this, but unfortunately they don't. When piecing fabric or quilting your  project, you're looking for accurate stitching.
Increased stability at high speeds – You don't want your machine shaking and rattling around the table like an old washing machine. No problems there with this machine!
Heavy duty construction – Quilts can get very heavy and you want your machine to be robust enough to handle this.
F.A.S.T. needle threader – A nifty feature, no more wasting time threading the needle.
Automatic thread cutter – Cut your threads with the push of a button, another time saver.
Brother exclusive pin-feed mechanism -This exclusive to Brother feature, moves several layers of fabrics simultaneously for accurate sewing.
On-board fabric separator tool -This is for sewing hard to manage fabrics together. the separator keeps the fabric pieces from interacting with one another prior to moving through the needle to be sewn. This method elimates the puckering that you see in slippery fabrics.
Large throat space – Always good for us quilter making for larger projects, and one of the essential features mentioned in this article
Knee lifter for quilting – This lever lets you have a hands-free operation for working with and turning your project.
Four feed dog settings – You can change the pressure foot control for different fabric thickness.
Extension table – Another good feature for managing large projects. Quite often, these are an added extra and not included in the price.
Easy access bobbin case opening – You don't need to remove the table to replace the large metal bobbin.
Dual thread stand – This lets you keep 2 thread spools ready using the on-board thread stand, for quick and consistent threading.

ACCESSORIES INCLUDED
General purpose foot
Rolled hem foot.
Adjustable zipper foot.
Invisible zipper foot.
¼" foot.
Spring action quilting foot.
Walking foot.
Knee lifter.
 Accessory kit (needles, spool cap, fabric separator, feed pin changer, 5 metal bobbins, seam guide, cleaning brush, 2 screwdrivers, spool cushion, power cord and manual.
ADDITIONAL INFORMATION
Warranty – 2 yrs
Dimension – 12.6" x 7.9" x 19.3"
Weight –  24.2 ilbs
Needle plate measurement – marked in inches
CONS  
No free motion quilting foot.
No built-in quilting stitches.
No pivot function.
Straight stitch only.
Amazon customer give reviews of 4.7 out of 5 stars, you can read the reviews here:

Brother PQ1500S High Speed Quilting and Sewing Machine – Final Opinion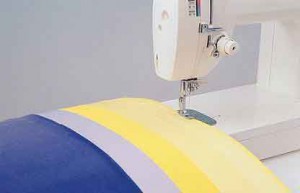 Although it doesn't have extra quilting or embroidery stitches, it's a no-nonsense, get the job done machine! If you're looking for an alternative that has these extras take a look at the Singer S18.
The Brother also comes with a walking foot and quilting presser foot included. With many machines, you need to buy these as an added extra.
The robust metal construction means this Brother sewing machine can cope with all the different fabrics that get used in quilting. The 4 dog feet function gives it the ability to handle a wide range of fabric types and thicknesses, a BIG plus. The functions, feature and accessories outweigh any cons. This would also be a great sewing machine to use with the John Flynn Quilting system
The Brother PQ1500S High-Speed Quilting and Sewing Machine is a good quality sewing machine for quilting and performs the job well, as you would expect from a Brother machine.
Buy the Brother PQ1500SL High-Speed Quilting and Sewing Machine