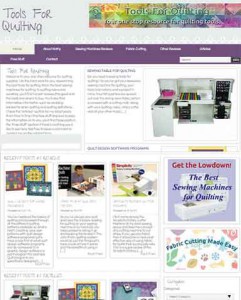 Have you ever wanted to build a craft website? You've landed on my site probably by doing a Google search, or via some social media. I built this site myself, from having no knowledge a year ago to what you see today. Even I'm impressed and it's my own site!
Do you want to know how I did it? I'll rewind and give you a bit of history. After losing my hubby last year, I found myself in need of an occupation. Not only to keep me busy but to give me an income. After some extensive online research, I came across a training program called Wealthy Affiliate
I've seen many free blogging sites, like Blogger or Weebly, I've used them myself in the past. This time,  I wanted a "proper" website, one that not only helps people but also gives me an income.
If you're a crafter, there are more ways of using your website than selling your handmade crafts. This is where the training program at Wealthy Affiliate comes in. The training teaches you to create a solid online business.
Keep reading and I'll explain!
I was skeptical I must admit, but the reviews were very good, in fact, I didn't find any negative ones at all. What encouraged me to join was the FREE membership.
No Such Thing as a Free Lunch!
Ah, I can hear you thinking, "there's no such thing as a free lunch!" Wealthy Affiliate has 2 levels of membership, Free Starter and Premium.
Now when I say free, I don't mean a trial. You can stay a free member forever, keep working on your websites AND, you don't need to enter any payment details.
Of course, there are many advantages to the premium membership and I'll delve into that in a bit.
How Can My Website earn an Income?
There are a number of ways, not just selling your crafts. These are just a few examples with very brief descriptions to give you an idea of what I'm talking about!
Affiliate Marketing – this is when you, the affiliate promote product/services online for companies (MERCHANTS). You earn commissions when products are purchased.
Google AdSense – A program run by Google that lets publishers in the Google Network of content sites serve automatic adverts. This is done by targeted advertising on your site. Every time someone clicks the advert you earn a few cents. Not a big money earner but once it's set up you don't have to do anything else. I use my revenue to buy fat quarters!
Membership Site – is where you have a special section on your site that can only be accessed by using a password. This can be in the form of training, tutorials, videos, patterns etc and people would pay for this service.
Email Marketing – most of you have "subscribed" to a website at some point. Maybe a free pattern was offered, or a free ebook, in return for you email address. All the people on your "list" then become potential customers.
Why did I choose Wealthy Affiliate 
As I said earlier, Wealthy Affiliate is an online training program that teaches you how to build an online business. You're taken from the very basics of putting your website, together, search engine optimization, right through to monetizing it.
You can just build a craft website and blog about your projects, you don't need to monetize it. The Starter Membership allows you to do this for free.
This is my experience: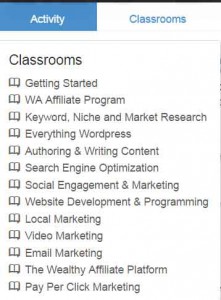 I joined the Free Starter Membership initially, just to find out what it was all about. For the first 7 days you have access to most of the premium features, including 24/7 support through the live chat.
There is a lot to take in and the first few days were very intense. Using WordPress to build my site was a learning curve, but help was on hand whenever I needed it!
The first thing I noticed was the community, it is VERY friendly with everyone helping each other.
Many members have competing sites, yet still the help is there. Questions I asked were answered quickly and I was able to move efficiently through the lessons. My website was built within a few hours and I was ready to start writing articles.
The lessons are set up in a methodical way. At the end of each section, you are given tasks before you move onto the next lesson. If you get stuck there's always someone to help you out. Everything is covered within the classrooms with the opportunity to ask questions. There are also live video training sessions every week covering all aspects of an online business.
The owners, Kyle and Carson have built a "pay it forward" ethos within Wealthy Affiliate and it shows. They are very active within the community, both in the Live Chat, (you can see Kyle in the live chat in the pic) answering members questions, and keeping the training updated.
After my 7 day access to premium features ended I upgraded, it wasn't a hard choice! The 1st month was $19 and after that it's $49 a month. Not much for building a business, step by step training, top notch web hosting, and an awesome community.
There are no upsells, the only extra thing you're encouraged to purchase is your own domain name at around $10, but you don't need this to set up your site. The following chart gives a breakdown of the 2 packages.
Building a Craft Website – what it's meant for me
Joining the Wealthy Affiliate University has given me a way to use my hobby to earn an income. What I didn't expect were the friendships I've made (and continue to make) within the very active community. The support is not just for technical aspects, but also comes across on a more personal level. Motivational blogs, success stories, personal triumphs, these are all shared on a daily basis. You're having an off day, tell someone within the community and you'll soon be up and running again!
So whether you want to build a craft website for fun, or to earn an income, I recommend you give Wealthy Affiliate a try.
Pop over now and sign up for free, you'll be amazed at what you can achieve!