I've seen the holiday candy appearing in the grocery stores so I decided it was time to look for Christmas gifts for quilters.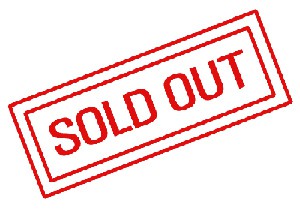 I know, I know, I can hear you saying it's too early, but don't you think it would feel great not to be rushing at the last minute. There's also the problem of having a brilliant idea for a gift then finding it's sold out, I hate when that happens!
Christmas Gifts For Quilters – My Top Picks
I've had a look around and thought about some Christmas gifts I'd love to receive as a quilter. These are my top picks, some I have already but duplicates are always welcome!
A Sewing Machine for Quilting
A bit obvious I know, but I think the top of any quilters wish list has to be the latest, all singing and dancing sewing machine for quilting! Now, as I've mentioned in this article, this depends on budget, but if money is no object I love the Janome Memory Craft models.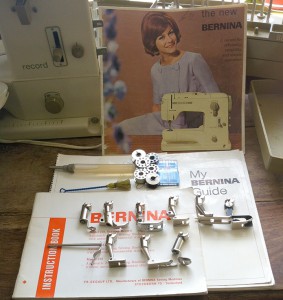 Or sometimes, one of those fabulous vintage
machines that aren't produced any more. My favorite vintage machine (and I have a few) has to be the Bernina Record 730. You can still get hold of these in second hand stores and I sometimes see them listed on Ebay. This is my best machine for piecing and general sewing tasks, it takes pretty much anything I throw at it!
Design and Fabric Estimating Calculator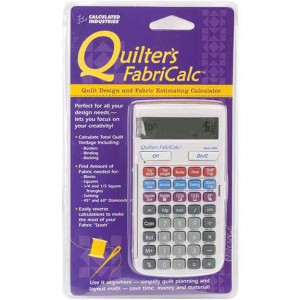 Now this is a nifty little tool and I don't have one, it's definitely going on my wish list!  It's the Calculated Industries Quilter's FabriCalc Quilt Design and Fabric Estimating Calculator design and fabric estimating calculator. You can find the total yardage for your quilt, including the backing, border, binding and drop. It can also find the total costs for materials. It stores fabric yardage solutions for six individual types of fabric. And another really useful function, find the number of squares and diamonds that can be cut from fabric in your stash. From $23.22 depending on where you buy it.
Quilter's Journal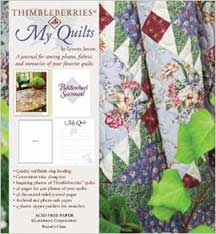 I love these and because you can really personalize them, they make a great gift for any quilter. I wrote an article about these journals with purchasing tips and a video tutorial on how you can make your own. Read more about quilters journals here. Prices from around $15.
Novelty Mug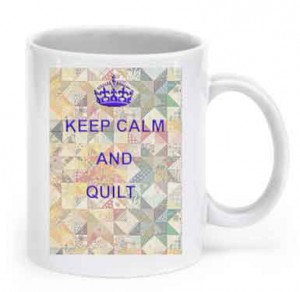 What about this cute mug, inexpensive and makes a great gift. Only $13.95 available for a limited time only.
This item is NOT available in stores. You can't purchase these anywhere else so give your quilting friends a unique gift. Click on the image for more details and to purchase.
Books for Quilters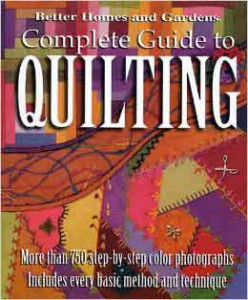 I believe you can never have enough books, whether for quilting or any other subject that interests you! If you don't have a big budget then a quilting book is an ideal gift. The only problem you might have is choosing one, there are SO many out there.
Make sure you pick one suitable for the skill level and type of quilting your recipient does. I wrote about how to quilt books in this article, so take a look and you might get some ideas from there. The other good place for book purchases is Amazon. You get many in depth reviews and every kind of quilt book you can think of! Pop over and have a browse through their quilt book section.
The Christmas Quilt Book
A heart warming bit of fiction from Jennifer Chiaverni. Sylvia is a Master Quilterwho comes to Elm Creek Manor for a quiet, peaceful  Christmas holiday.  Her friend Sarah decides other wise and starts to explore the trunks looking for things to deck the halls brightly with. It was in the trunks where Sarah discovered the Christmas quilt which was unfinished,
The story continues as Sylvia examines the handiwork which spans several generations, each fail member adding an unfinished quilt block.
For Sylvia, who is coping with the modern problem of a scattered family, some estranged, some forgotten, reconciliation with her personal history may prove as elusive as piecing the Christmas Quilt.
Quilting Ruler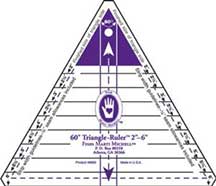 There are many different sizes and shapes of quilting rulers with a wide range of prices. With the smallest sizes coming in at around $4 for the 1″ by 6″ up to multi packs
If you want to learn more about quilting rulers and why they make great gifts you can check put this article I wrote earlier.

If your budget won't stretch to the specialist Oliso iron for quilters then the Clover Mini Iron is a nifty little tool. It's a little easier to control iron for quilters and dressmakers. It has a mini shaped head for tight spots, quick bias and applique.
I've never used one, but it looks like a good buy.
Gypsy Cutting Gizmo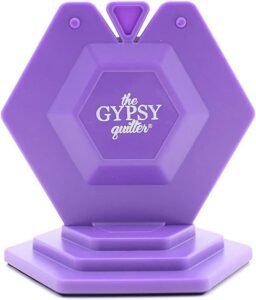 The Gypsy Cutting Gizmo is an interesting gadget that helps you to separate chain pieced segments. It claims to give you that "extra hand you always need when separating chain-pieced segments of your quilt tops."
I've never used one so I'm not sure if it would be any more effective than using scissor snips.
It  does get great reviews over at Amazon though so I'd be tempted to give it a try.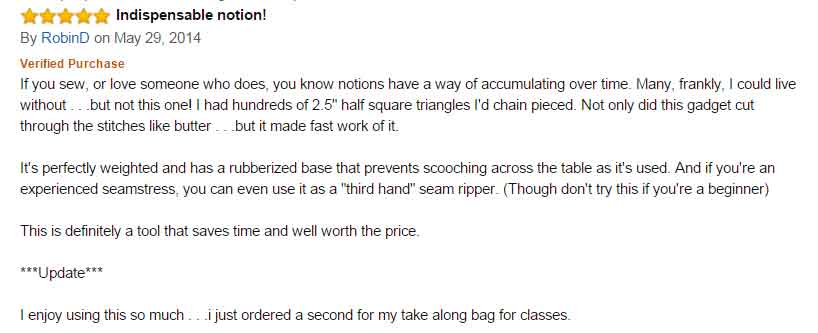 Omnigrid Quilters Travel Case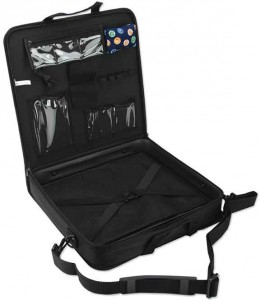 I tend to do most of my sewing and quilting at home, but if your recipient travels much or is in many local groups then this Omnigrid Quilters Travel Case, Black would make a great present. You can fit your unfinished quilt blocks up to 12-1/2 and it has loads of inner storage options and even a velcroed pin cushion.
It's water resistant in case you get caught in a shower and a removable shoulder strap. The whole bag measures 14 x 14 by 2-3/4-inch
Quilting Magazine Subscription
Now in my view, this really is a useful gift. There's nothing like seeing all the new ideas and knowing you're going to be inspired with all these new ideas and projects!
The American Quilter's Society is a good one going right back to 2008 with a years membership being only $25. There are other purchase options which give you an even better deal!
Finally, if you have a good look around this website you'll find lots of product reviews and articles that will help you choose a perfect Christmas gifts for quilters.