When you first start quilting it can be daunting, the amount of information out there. Best thing to do is look for easy quilts for beginners, you'll find a ton of resources via Google or whatever search engine you use.
I've found a few for you, some have tutorials some not, but they're all good easy quilts projects.
Easy Quilts For Beginners
This  placemat has to be my top pick, so simple yet very effective. Using the "piecing on the go" method it really wouldn't take long to make a set of these.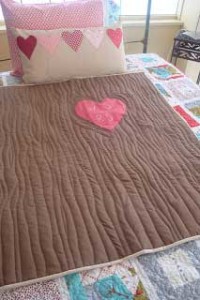 Next up is the Tree Carving quilt from The Quilt Barn. Now, they sell these quilts on Etsy, but using the techniques from the previous 2 projects and some free motion quilting it would be fairly easy to make.
You could do place mat size ones first, to get the hang of the quilting side of it. This one has a valentine appliqued on, but use your imagination and you could pretty much have anything on there, to suit the recipient.
The matching heart pillows are a nice addition to finish it off. Buy or make a plain pillow case and just sew on the heart/decoration to match the quilt.
Basic Patchwork Quilt
The basic patchwork quilt is one of the easiest to make and with the right choice of colors you can create something special.
The video below takes you through the cutting, piecing, quilting and binding of a complete quilt. You can see how easy it would be to creat your own patterns from this.
An ideal, and much appreciated gift is a baby quilt. Smaller squares, cute fabric, follow the steps in the video and you could have this done in a few hours.

Quilted Washbags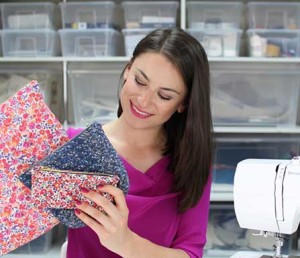 Quilted washbags are so useful, you can make them for yourself or as gifts. Men use them too, choose the right fabric and that's the male side of your gift giving sorted out! The best tutorial I've found is from "Made to Sew".
She takes you step by step right from the material needed to the finishing touches. If you prefer a video, well she provides one of those too!

You can also check out these free quilting patterns for beginners.
What was your first quilt project, did you attempt an easy quilt for beginners, or dive right into more complex blocks?!