Product – HQ Sweet Sixteen Quilting Machine
Price: $6,495.00 with special bonus package! (List Price: $8,532.00)
Website – Sewing Machines Plus
Laurel Barrus, the founder of the Handi Quilter company designs machines with the ethos: "Designed by a Quilter, for Quilters"®.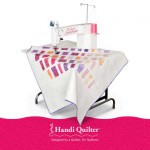 With the HQ Sweet Sixteen Quilting Machine the company have come up with a long arm sit down quilting machine, an ideal solution if you don't have the space for the larger "stand up" models.
Called the Sweet Sixteen because of the 16″ throat space this model from HQ will let you quilt king size quilts with the added advantage of the addition of the TruStitch regulator.
Working differently from the "stand up" long arm quilting machine the smooth surface of the included table lets your project glide under the needle.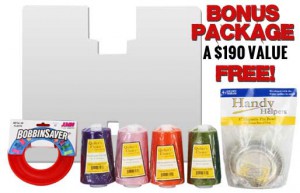 The special offer package includes:
HQ Sweet Sixteen table overlay
4 Spools of Quilter's Choice thread
Jumbo Bobbin Saver in red
Handy Helpers 4in. Magnetic Pin Bowl with Pins
Also included is the Tru Stitch Regulator worth $995
HQ Sweet Sixteen Quilting Machine Features
This machine is a breeze to set up and take down; it doesn't need to be permanently in place.
With 16″ of throat space and 8″ of vertical space it has more than 3 times the quilting space of a domestic sewing machine.
The Handi Quilter comes with a 36" x 30″ height adjustable table adjustable from 26″ to 42″
HQ have a new "patent pending" Easy-Set Tension™, an exciting feature which eliminates those tricky tension problems.
Fast stitching speed of up to 1,500 st per minute, choose between 10 and 1,500 st per minute.
Interchangeable Handi Feet with a 1/4″ ruler comes installed with an included open foot.
The color touchscreen is adjustable.
There are 4 basting stitch options with the walking stitch controlled with either the touch screen or the foot pedal.
With the project timer and quilting alarm you can set an alarm for how long you want to spend quilting and track how much time you spend on a quilt.
Low-bobbin estimator and alarm, a convenient way to keep track of how much thread you have left on your bobbin.
 LED light ring, Innovative design illuminates the quilting area with 28 LEDs. This gives great visibility, no need to crane your neck and get backache. An eye movement is sufficient.
It comes with a useful large capacity m class bobbin (really useful when you don't have to keep loading bobbins) and a high-speed rotary hook.
The ergonomic thumb screw makes it easy to do a needle change.
Four language options are included; English, French, German and Spanish.
 The built-in diagnostics keeps your project moving.
It can handle any kind of thread from cotton and  polyester right through  to rayon, metallics and holographic.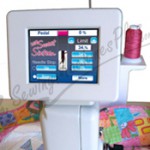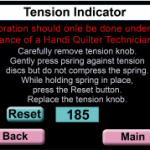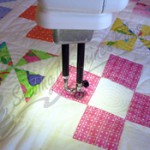 The HQ Sweet Sixteen Quilting Machine in Action
To see how easy it is to use the HQ Sweet Sixteen Quilting Machine for free motion quilting watch this video from the HQ channel.
Tru Stitch Regulator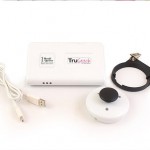 This is a fairly recent Innovative stitch-regulation system for the HQ Sweet Sixteen and comes as part of this special offer package  from Sewing Machines Plus.
It choreographs stitch regulation on the table by measuring controller movements. It is easy to learn and operate for all skills and will give you consistently even stitch lengths.
With full visibility of the quilting area and greater flexibility with quilting motifs the TruStitch is a welcome addition to HQ's arsenal!
The Coaster attaches to the edge of the quilt giving more flexibility for borders and small projects.
The Controller is an advanced sensor that moves with the quilt to control stitch length.
The Magnet is a tool for optional use when you want to keep the controller positioned on the quilt. This frees up your hands when using certain techniques.
The Receiver regulates the stitch length by translating the signals from the controller to the machine.
Watch the Tru Stitch regulator in action.
Optional Extras
TruStitch stitch regulation – comes as part of package.
Table overlay for creating a smooth surface – comes as part of package for use with the Tru Stitch.
Set of three couching Handi Feet.
Horizontal spool pin.
18" x 30" table extensions.
HQ Hideaway™ Table.
Other Information
Nationwide Dealer/Rep Support.
HQ Customer and Technical Support.
Online training and education.
HQ Sweet Sixteen Machine Head – Weight = 53lbs, Length = 31″, Width = 15″, Height = 21″
Sit down Table – Length = 42″, Width = 15″, Height = 8″
Cons
While this is sold as a long arm machine it operates differently. You still have to move the quilt yourself and on a large quilt, there is still a lot of quilt to sit on your shoulder or chest when you're working in the middle of the quilt. No plugin pantographs are available.
Pros
The 16″ space and smooth surface makes it much easier to do free motion quilting. The HQ Sweet Sixteen easily copes with thick fabrics and layers. The 28 LEDs is a nice touch giving great visibility. Being able to put it away between projects is a great feature for a long arm quilting machine. There are lots of training options, help and support all easily accessible.
Conclusion
The HQ Sweet Sixteen Quilting Machine is not a magic tool; you still have to move the quilt under the needle. Having said that, the way it's designed makes free motion quilting so much easier, you can tell it was designed by a quilter! Many of us still like to sit down when quilting and the HQ Sweet Sixteen allows you to do this
If you don't have the room or the budget for a true long arm quilting machine then you should consider this one. With Sewing Machine Plus offering such a great package now would be the time to buy this Handi Quilt machine; "Designed by a Quilter, for Quilters"®.
Click here to take advantage of this special offer price of just $6,495.00 for the HQ Sweet Sixteen Quilting Machine plus Tru Stitch Regulator and Bonus Pack