What Is a Fabric Cutter?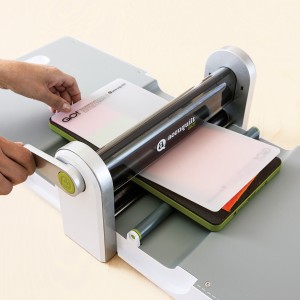 If you've always used scissors or a rotary cutter to cut your quilting fabric you might not have heard of a fabric cutter. So what is a fabric cutter? It is a tool that is a precise and fast way of cutting your fabric.
A good fabric cutting system will enable quilters to cut fabric up to 90% faster than scissors or a rotary cutter. You can have your entire quilt cut and ready to piece in minutes a great time saver!
If you suffer from a "bad back" then this is a must if you're a quilter. Imagine, no more stooping over a table for hours measuring and cutting your fabric pieces, sounds good to me!
There are different rotary cutting systems available from a "baby" size up to the larger non portable ones used by prolific quilters and professionals.   The one I'm looking at today is the AccuQuilt GO Fabric Cutter
Functions and Features
Fast cutting system – allows quilters to cut fabrics as much as 90-percent faster than scissors or rotary cutting.
Portable Design – Patented revolutionary allows you to take your fabric cutter wherever you go. Take it to classes, retreats guilds and quilting bees, in fact anywhere, even on holiday!

Cutting mat and die included – you'll be ready to start quilting straight out of the box with these included extras.

Project directions included – Get started straight way with the included projects.
Accurately cut up to 6 layers of fabric at a time.
Ergonomic design reducing risks of hand and arm strain.
Unlimited design options with wide range of quilting shapes.
FREE 20-page pattern booklet includes 12 block patterns and also a sampler quilt pattern, get started straight away!
Compatible Dies = 150

TheAccuQuilt GO is an affordable solution and is portable enough for home hobbyists.

You can fit approximately 8 layers in it depending on the thickness of the fabric; however, it does get more difficult to turn the handle at that level. The handle on the cutter is large and comfortable to hold onto, a bonus if you have any problems with joints and grip.

The crank handle on the cutter is large enough to comfortably hold onto, and easy to turn. The accuracy is good making piecing a breeze, especially on a more complicated quilt.

If you have lots of scrap fabric then using a fabric cutter makes it easier to use them up. The accuracy of cutting means less waste and time saved because you don't need to check the fabric sizes before piecing.
Watch the official video from AccuQuilt and see how easy it is to use.
Cons
You need to buy a new die for each shape and size you want to use.
Pros
You can save yourself time and backache with the ergonomic design. I like the accurate cutting with unlimited design options. the portability and the free book which lets you get started straight away.
Conclusion
I like the AccuQuilt go and purchasing the GO! Fabric Cutter Starter Set is a cost-effective way to get started. So, if you were asking the question "what is a fabric cutter." now you know!
BUY THE ACCUQUILT GO FABRIC CUTTER HERE