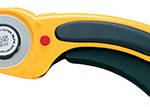 As I said, rotary cutters come in different blade sizes from 18mm to 60mm diameter.
You'll probably use a larger blade more often then the small one so bear this in mind if you only want to buy one size.
The handle shapes and sizes vary and it's a bit like choosing a kitchen knife, it needs to feel "right" in your hand.
I prefer the curved ones that fit in the palm of your hand. Always choose a quality, brand name blade, it will save you money in the long run.
A rotary cutter should always be used with a cutting mat. These are special self-healing mats which come in different sizes and have measurement grid lines on them.
If you try and use a rotary cutter on wood your blade wont last long and you'll get splinters in your fabric!
Safety
Rotary cutters generally have a safety cover that you can move over the blade when not in use and pull back to expose the blade.
These safety covers work differently depending on the model so check that it's not to being tricky to use if you have arthritis or carpal tunnel syndrome.
More and more manufacturers are now making rotary cutters which have an automatic safety cover.
Always follow the safety instructions and make sure the blade is covered when you lay it down, I learned this lesson the hard way!
So if you've asked the question "what is a rotary cutter?" now you know! Once you've bought your first rotary cutter you'll probably want to start a collection and there are plenty to choose from.
If you're just thinking about buying one for the first time, then check out this kit which has all you need to start cutting.