Brother Scan Cut Machine
We know how expensive it is to keep buying different dies and different size quilting rulers to get the shape we want for our projects.
Well, how about a product that scans AND cuts, like the Brother Scan Cut Machine?!
A world's first, you don't need any cartridges dies or computer software.
You can scan a photo, sketch or an image and the Brother ScanNCut will whatever shape you want.
I'm excited about this, it will make personalized items SO much easier and will also be good for using those small scraps of lovely fabric you can't bear to throw away!
Brother now make a few different models of the Scan Cutter, today I'm taking a look at the CM100DM model. It's on special offer so a good time to buy!
Features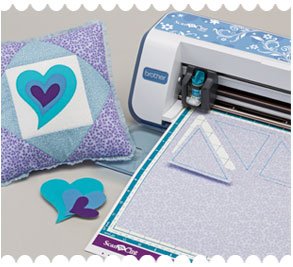 The main feature for me is the ability to cut fabric, not much use for quilters if it can't do that!
You can draw in your seam allowance and have accurate sewing guidelines by using the erase function with cutting.
The scanner is a 300DPI which can scan just about anything, artwork, magazine pics, photos and more.
You can also use it as a normal home scanner using the USB socket.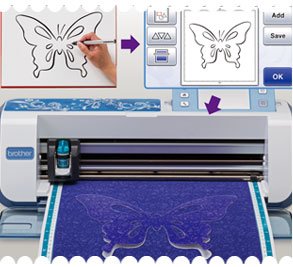 You can save your scanned design to use as a cut or draw file.
Lines will be automatically created and finished off with hand-drawn elements using the pen draw feature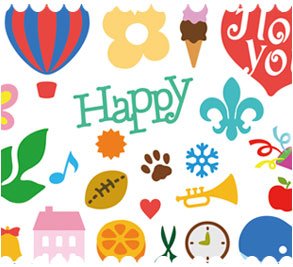 There are 600 designs to choose from:
Basic shapes.
Intricate designs.
Quilt patterns (yippee!)
Fonts,
And more…
You can access them via the color LCD touchscreen. Select a design then have it cut out on the fabric you choose.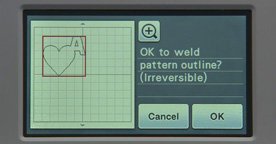 Another really cool feature is the ability to weld designs together.
You can combine shapes from your gallery of scanned images and built-in designs to create a unique pattern for your project.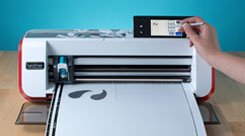 You can easily edit you designs with the LCD touch screen. The Brother ScanNCut lets you rotate, resize as well as weld (mentioned in the previous paragraph.
You don't need to use a computer so great for taking along to groups and classes.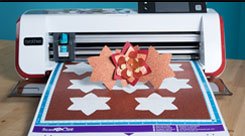 There are add-ons you can purchase for the Brother ScanNCut like the  USB No. 1 Quilt Pattern Collection.
There is also the large 12″ x 24″ cutting mat to give a larger work area.
To see how simple it is to use the CM100DM to make a quilt block, watch the video below.
What's in the Box?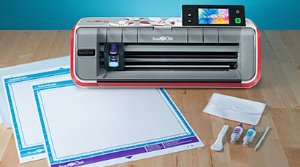 The Brother ScanNCut comes with:
• Standard Cut Blade Holder
• Standard Cut Blade
• Deep Cut Blade Holder
• Deep Cut Blade
• Standard Mats 12″ x 12″
• Low Tack Adhesive Mat 12″ x 12″
• Spatula
• Stylus
• 2 High Tack Adhesive Fabric Support Sheets
• 2 Iron-On Fabric Appliqué Contact Sheets
Brother ScanNCut CM100DM 

Extra Accessories
There is a wide range of extra accessories available, I won't list them all here but here are a few related to quilting and applique.
Deep Cut Blade – for thicker fabrics like felt and leather.
Deep Cut Blade Holder – for use with the deep cut blade.
Standard Mat 12" x 24" – to give a larger work area.
USB Pattern Collection – A range of different patterns including quilt and applique ones.
Fabric Applique Contact Sheet, Iron-On – permanent iron -on sheet for piecing projects like patchwork.
How Does the Brother Scan Cut Machine Work With Fabrics?
The big question, no use for quilters and sewers if the Brother ScanNCut only cuts paper and card!
It's important to remember to adjust the pressure of the cutting blade and making sure the fabric is well adhered to the cutting sheet.
The regular adhesive sheet that's included works well, using the extra sticky sheet makes it a bit too sticky.
It works well with light cotton fabrics and other lighter weight fabric. For heavier fabrics you'd need to purchase the deep cut blade. It can also be used for cutting quilting stencils.
The trick is to follow the instructions properly, they are well laid out and easy to follow!
Cons
There is enough in the box to get started but for heavier fabrics you need to purchase the deep cut blade.
It can be tricky adjusting the blade to suit the materials being used, a bit of trial and error is needed.
Pros
The Brother ScanNCut machine cuts accurately and through thicker fabrics including leather and suede.
A huge range of patterns already built in to choose from with the ability to "weld" patterns together creating unique designs.
Summary
The Brother Scan Cut Machine is a useful machine for any quilters workshop. Many of us crafters also have other hobbies, such as cardmaking so it can be used as a multi-purpose machine.
My favorite feature is the "weld". The amount of unique designs you can make with this are endless.