Janome Horizon Memory Craft 12000 Embroidery Sewing Machine
Most quilters like to embellish with embroidery at some point. An embroidery sewing machine that is also suitable for quilting is ideal for this and Janome have produced a model they claim is perfect for this.
"Whether you quilt, embroider, sew home decor and garments, or do a combination of everything, this machine makes it all more enjoyable."
With the advanced PC connection with horizon link you can view and edit your embroidery patterns via a computer interface. Let's have a look and see what else the Janome Horizon Memory Craft 12000 has to offer.
Key Features 
Horizon Link, Advanced PC Connection – As already mentioned, although the Janome has a generous size on  board screen you can now attach the Janome Memory Craft to your PC or laptop via the exclusive Horizon Link. this means you can perform editing functions on a screen as large as you want. You don't need to transfer the layout to the Memorycraft, all the editing is happening real-time. Because software is installed on your computer you can create anytime and then sync to your machine.
JPX Design Format – This is a new file format for embroidery designs which you can use to fine tune your designs before transferring via the Horizon Link.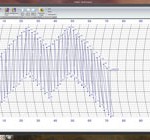 Stitch Composer Software – Another unique feature which allows you to create and edit stitches from your computer.
You can modify any of the stitches in the stitch composer library and save it as a new stitch giving it a memorable name.
Using the dot-to-dot drawing tool it's easy to create your own unique stitch. Patterns can me mirrored and the needle position specified.
This feature gives you the creative freedom to develop your own style and create wonderful designs.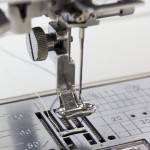 Large space – At 11″ to the right of the needle; this is the largest bed space from the Janome range.
This makes it suitable for quilting and projects that need extra space. It also means a larger embroidery hoop can be accommodated.
This space also has a 15″ stainless plate with useful measurements embossed in it.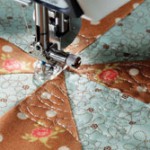 Free Motion Quilter – Precision Stitches and more decorative choices make free motion quilting a pleasure.
The foot height can be customized for a particular project and the settings saved. There is also an Automatic Pressure Height adjustment feature.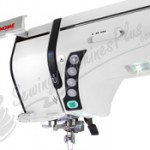 Retractable Height Light – This allows greater illumination in the area you need it.
With the 10 built-in LED lights in five locations seeing your project clearly won't be a problem! There is also an Acuview Magnifier accessory available for extra magnification.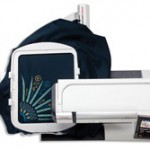 Linear Motion Embroidery System – Gives you a larger embroidery area and it slips neatly to the back of the machine.
You can leave it attached when you do regular sewing and is the only system on a home sewing machine that allows free arm embroidery.
Although the Janome can embroider up to 1000 stitches a minute there is no loss of stitch quality as the embroidery unit is so stable.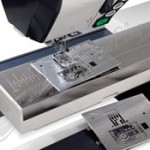 One Step Plate Converter – Easily switch plates with a simple press release button; then just snap the new plate into place in seconds.
This system also has a sensor which prevents sewing the wrong stitch with the wrong plate, no more broken needles and a great time saver.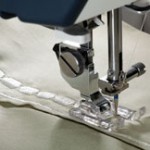 9mm Zig Zag – A great design feature that lets you fill a bigger area with bolder, brighter, decorative stitches.
Most of the built-in 425 stitches can take advantage of this feature. 25 of the included feet can be used with this 9mm zig zag stitch.
4 Embroidery Hoops – The FA10 Hoop is an elongated shape 3.9 inches x 1.6 inches (100 x 40mm). Perfect size for doing embroidery in small places like sleeves and cuffs. You can also embellish existing garments without taking them apart.
The SQ14 Standard Square Hoop is 5.5 inches square (140 x 140 mm), perfect for many designs.
The SQ23 Big Square Hoop at 9.1 inches square (230 x 230 mm) is great for "in the hoop" stippling on your quilt blocks and squares.
Quilting directly in the hoop has become popular recently and this hoop is made for the larger square designs. The magnetic clasps give more precise results moving from square to square.
The GR Grande Hoop called the "grande" because it's 11.8 inches x 9.1 inches (300 x 230 mm) size!
This is for those large scale designs which come with the Memory Craft 1200 and allows even better precision. This hoop also features magnetic clasps.
Watch the video below to see the 12000 Embroidery Sewing Machine in action.
Other Features and Functions
Top loading rotary hook bobbin.
425 stitches built in.
13 automatic one-step buttonholes
Automatic thread tension
Needle threader built in.
Automatic cloth guide with the AcuGuide.
Snap-on presser feet
Needle up/down memory.
Automatic presser foot lift.
Layered Fabric Feeding System with AcuFeed Flex.
7 piece feed dog with drop feed.
Free arm.
Variable Zig Zag for Free Motion Quilting.
Start/stop button.
Speed control via a slider.
Locking stitch button.
Automatic thread cutter with memory function.
Twin needle guard.
Reverse button.
Up to 4MB of memory storage.
Adjustable knee lift.
Auto declutch bobbin winder.
Extra high presser foot lift.
LCD Full color touchscreen.
Foot pressure adjustment.
Foot height adjustment.
Maximum stitch width: 9mm.
Maximum stitch length: 5mm.
On-screen help with the sewing application support.
338 Built-in embroidery designs and10 Fonts with European characters.
2&3 Letter monogramming function.
Linear Motion Embroidery System.
Resize, combine, duplicate, flip, arc, group, drag & drop, zoom, trace, and user color choice with the editing functions.
Adjustable speed during embroidering.
Flexible stitch travelling by units of 1, 10, and 100
Automatic return after a thread break.
Choose which brand of thread with the thread brand selector.
Just a few of the in-built designs avaiable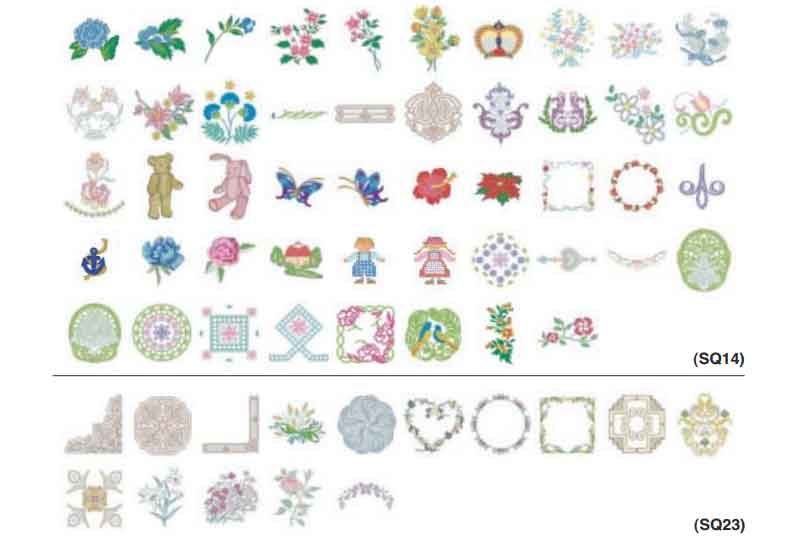 Included Accessories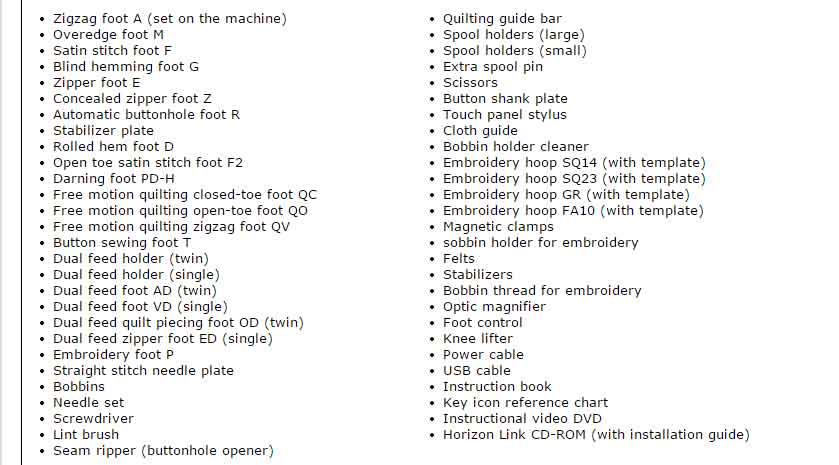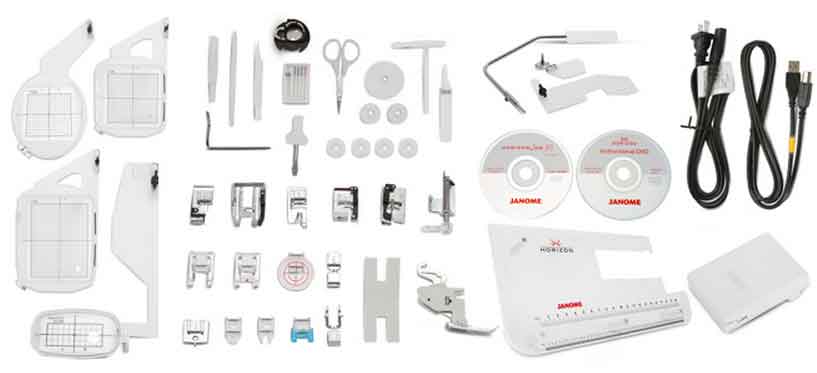 Optional Accessories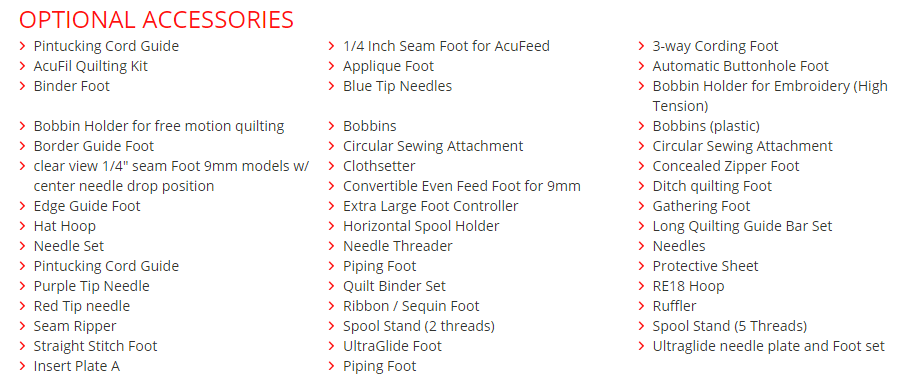 Particularly useful for quilters is the optional AcuFill system. To see how it works and how it could benefit you watch the video below.
Cons
It's pricey, but not as much as other embroidery sewing machines of the same class. A beginner might find it tricky to use.
Pros
The computer connection with real-time editing and the user-friendly software makes it easy to be creative.
It works with extra large hoops which can stay fixed during normal sewing. I love the retractable light, easy to get the light where you need it most.