John Flynn Quilting System
So you've pieced your quilt and have the 3 layers reading for quilting on your sewing machine or by hand. Do you have problems rolling it up and keeping the tension? Don't have the budget for a Long Arm Machine? The John Flynn quilting system could be just the thing!
Let's have a look at how it works and the benefits of using a quilting frame like this.
The John Flynn quilting system, simply put, is a set of rollers in a frame that holds your quilt together.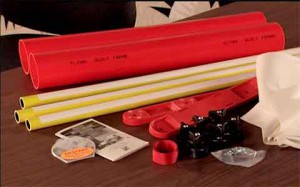 Out of the box the quilting frame includes:
Two PVC roller pipes.
Three fiberglass rods, with adhesive strips, these are for rolling the quilt smoothly.
Side Tension ribbons.
Three muslin leaders.
Two reinforced frame ends.
Six rod ends with knobs.
Screws.
Instruction Book
Instruction DVD
The Flynn Multi-Frame Quilting System accommodates quilts up to 38″ wide, but it can be modified for any size by purchasing 3 pieces of metal conduit (EMT) simply purchase 3 pieces of metal conduit (EMT). You can get these at your local lumber yard and get them cut to the size you wish.
How Does the John Flynn Quilting Frame Work?
Because it's the frame that moves it can be used with most sewing machines. You'd struggle to use it on a small sewing machine or one with a small throat space, it can be done, but just not as effectively. Once the frame has been set up and you have the muslin leaders attached you can then roll your quilt, no basting is needed.
This is a video featuring John Flynn that takes you through the whole process, from what's in the box, setting the quilting frame up, right through to using it for free motion quilting. It's over 30mns long but worth watching if you're considering buying a quilting frame.
Now you've watched the video you can see how the
John Flynn Quilting System
 works.  You can use the frame with a sewing machine or for hand quilting on your lap. It works without the optional extra oak frame stand, this just makes it a bit easier to use.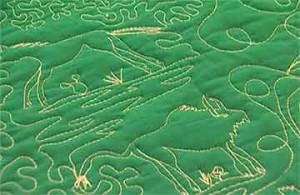 You can create some complex designs using free motion quilting, however if you haven't done free motion quilting before I suggest you do some practice first!
You can make a small "sandwich," drop the feed dogs on your machine and go. It helps initially if you use a quilting stencil so you have guidelines to follow.
If you want to make your own quilting frame there are plenty of tutorials and videos that show you how. I would say, by the time you've purchased all the materials, you're better off buying the John Flynn quilting system ready-made kit.
Cons
Although the instructional DVD and written instructions are good, it is fiddly to set up. It feels a bit cheap and plasticky. You need to roll your quilt up pretty tight to use the quilting frame with a smaller sewing machine. If you want to use it for bigger quilts then there's the extra cost of purchasing the materials.
Pros
The low cost is a big plus if you're on a tight budget and can't afford a true long arm, quilting machine. You can pay thousands for some long arm quilting machines and frame systems, this is a cost effective way of emulating that. It will work with almost any sewing machine, you can see on the video how John Flynn uses a vintage machine to good effect. It can be stored away and doesn't take up much room if you're tight for space.
Conclusion
The John Flynn Quilting System gets mixed reviews, but most of the negatives are related to the setting up.
If you're looking for a low-cost system for free motion quilting then this is a good purchase. Although it takes a while and is fiddly to set up, once everything is in place it works well. A good machine to use it with would be the Juki tl 2000qi quilting machine, as it has the extra space that makes the quilting frame more effective.