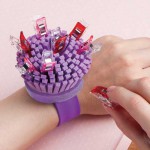 I've written reviews on some of the larger items we use as quilters but there are lots of other tools and notions that can be useful. Here are commonly used tools for quilting and the best place to purchase them
Quilting Materials Supplies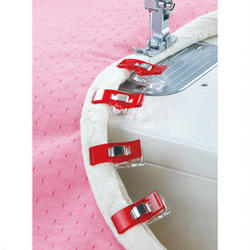 Clover Wonder Clips 
Wonder Clips are particularly good for holding binding in place while sewing and have 1/4″ and 1/2″ seam markings.
They can be used in place of pins for all sewing related tasks. They can also be used for card craft and knitting tasks where you need to hold pieces together.
They're easy to see if you drop one and it's also easy to see them on your project.
Even if you have arthritis in your hands they are easy to operate, easier that pins.
I LOVE CLOVER WONDER CLIPS!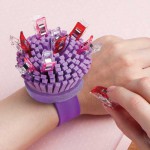 Wrist Cushion Clover Wonder Clips
To match the previous item this cushion attaches to the wrist for a convenience when working with Clover Wonder Clips. Made of foam it is soft and comfortable but durable.
51/4″, hand crafted and made of cherry wood this tool is for pressing
paper piecing
projects.
No more aching fingers trying to finger press or getting up and down to use the iron!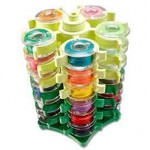 Stack N Store Bobbin Tower 
Another nifty idea, storage for all your bobbins. You can have the bobbin you need at your fingertips. Snap and stack into the 3 1/4″ organizer. No more rummaging about in your sewing box, tangled threads everywhere!
Roxannes Glue Baste It 
A great time saver this is a water soluble basting glue. It holds fabric in place, just like basting stitches, until you wet it. It comes with and applicator which produces controlled dots of glue. Roxannes Glue Baste It is also useful for applique. This is the 2oz bottle and you can buy refills for it. The applicator produces controlled dots of glue, making positioning applique pieces easy. 2 0z. Bottle.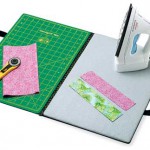 Omnigrid Mini  Foldaway 
Do you like to go to quilting and sewing groups? Or maybe just pop round to friends for a quilting get-together or go travelling? This is a portable cutting mat and non-stick pressing surface. It folds in half with a tab enclosure. It's a convenient size for foundation piecing and cutting around templates. Measures 7 by 7 inches (this size doesn't have grid measurements.
Buttonhole Stitch Tiger Tape 
Although this is called "Buttonhole Stitch Tiger tape you can use this anywhere you need evenly spaced measurements. Good for quilting, embroidery and buttonholes; in fact any craft where you have to have accurate measurements. Marked at 4 lines per inch and with 30yrds of re-usable tape it's good value for money.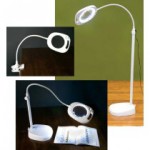 Craftlite Dublin Magnfi Light $128.99
Three lamps in one the Dublin Magnifi Light is a floor lamp, a tabletop  or a clip on. It's a gooseneck lamp with 21 extra large LED lights and a 5″ diameter magnifying light at 1.75X strength.
It's lightweight but also very stable and a handy feature is the facility for using batteries (it comes with an ac adapter). The gooseneck means you can twist and turn it to just about any angle, great for any craft project!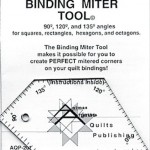 Binding Miter Tool $5.99
An inexpensive handy tool;  the binding miter tool makes it possible to create perfect mitered corners when binding. It is marked with 90, 120 and 135 degree angles for squares, rectangles, hexagons and octagons.
These are just a few of the extra tools and notions you'll find useful Lots of fab quilting materials  here where you can purchase all the above products.