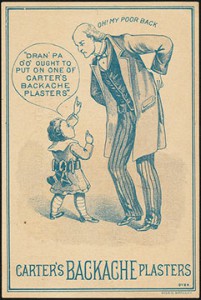 My own recent troubles with backache prompted me to do some research into how to sew without getting backache! If you've suffered from this you'll understand how painful it is, also frustrating when you have quilting projects you want to get on with. This article "Sewing Ergonomics – How to Sew Without Getting Backache" will get you back on track for pain-free sewing!
How Does it Happen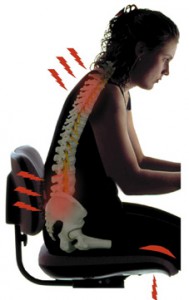 Sitting for too long in a "bad" position is asking for trouble. The strain on the upper back and lumbar region can lead to chronic back problems.
When we sit with rounded and elevated shoulders and our head pushed forward this places stress between the top of the neck and skull and also the upper shoulders and base of the neck.
Sitting for long periods with forward tilting hips, an increase in the curve of the lowers spine and a protruding stomach puts stress over both hip joints and lower back.
In their article in the Medical and Engineering & Physics journal "A novel system for the dynamic assessment of back shape" Taylor, Consmüller, and Rohlmann write that "Low back pain is an increasing problem and can be aggravated by prolonged static posture."
In other words, sitting hunched up over a sewing machine for a long time is likely to cause you trouble.
Ergonomics in the Sewing Room
Sewing machine height should be so that your elbows are 90º to your upper arms when you are sewing. If your table is too low you'll end up hunched forward which strains your back, shoulders and neck. If it's too high you'll need to lift your shoulders which will make tired and tense.
Have a large enough work surface to fit your machine. Make sure your legs fit underneath comfortably while using the pedal, and that your feet are flat on the ground.
An adjustable chair is ideal for helping you get things right.
Tilt the machine forward slightly if sewing for long periods.
For your cutting table the same principles apply, we spend a long time cutting!
If you table isn't quite right there might be simple solutions like cutting the legs down or using wooden blocks to heighten it.
Make a simple sewing machine apron like the one in the image from meandmysisterdesigns.com. It keeps tools close at hand and save you from twisting awkwardly.
Make sure you have good lighting, this is often overlooked. Scrunching forward to enable you to see your work better is a recipe for getting backache!
Your choice of sewing machine can also back a factor, Difficult to thread, hard to reach function buttons and poor lighting can also contribute to back problems when sewing.
MY 2 TOP TIPS
Cutting is the thing which hurts my back the most and most of my sewing friends complain of the same thing. I use a dog grooming table for this! At 5'6″, a normal table height is just a little too low, dog grooming tables are higher. One of my cutting mats fits almost perfectly on the surface. The one I have is similar to this grooming table just without the arm. It also folds away flat for handy storage!
Chasing your foot pedal across the floor can put extra strain on your back knees and hips. Get a piece of non-slip matting to put your pedal on. Alternatively, make yourself one of these non-slip sewing machine foot pedal pad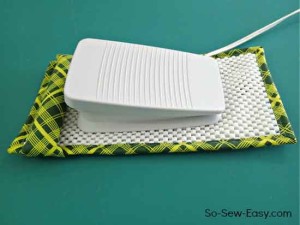 Correct Posture
Sit correctly with a straight back, don't hunch your shoulders or bend forward towards the machine. Bend your whole neck, not just the head.
Use a lumbar support pillow and try not tense up, stay relaxed. I know, easier said than done when you're focused on a project!
Move around, stand and stretch every 15-20mns. To stretch your shoulders hold onto the door jamb at either side, lean through the door and stretch the muscles in your chest. Only stretch as much as feels comfortable not till it's painful for about 15/20 seconds. Pull your neck back if you've been sitting with it forward.
Strengthen the abdominal and ham-string muscles. Choose an exercise routine appropriate for your age and level of fitness. This website has excellent advice and information about exercise for spine health.  This is another useful article on making modifications to your home and office.
An exercise you can do while walking around is suck in your tummy, like you were buttoning up a pair of trousers. Count to 10 but keep breathing and walking around, tricky at first but you soon get the hang of it! Doing this exercise several times a day will help strengthen the transverse abdominal muscle.
Interestingly, I read an article recently called "Lost Posture: Why Some Indigenous Cultures May Not Have Back Pain." It seems that our lifestyle, in many ways, can be to blame for the many bad back problems we see today. You can read more about the article here.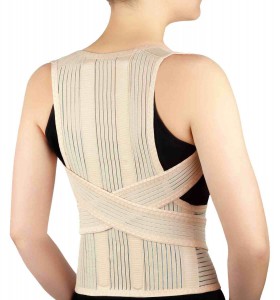 Back support braces work for some people by helping to instill and maintain good posture habits. After being worn for a while, the effect stays even when the brace is taken off. There are many different makes and models on the market so it's important to find one that fits correctly and is comfortable. Speak to your health professional for the best advice.
Get Advice!
Finally, if you're having recurring back problems speak to your health professional.They can advise you on all the above points and make sure you have everything you need for pain-free sewing.
Do you have back problems? What are your best tips for avoiding or alleviating backache?