Singer Special Edition Sewing Machine
The Singer Special Edition Sewing Machine is a glamorous looking sewing machine from Singer with a shiny metallic silver finish that certainly looks good! it won the Women's Choice Award which is based on a national survey from over 5000 women.
Let's look under the hood and see if beauty is only skin deep by checking out at all the functions and features this sewing machine has to offer.
Functions and Features 
The Singer Special Edition Sewing Machine comes with over 1000 stitch functions and 231 built in stitches. You'll find the usual basic stitches as well as the decorative, buttonholes, stretch and alphanumeric. There are 7 essential, 5 Stretch and 212 decorative Stitches. Also features are 6 automatic one step buttonholes and a 1 endless buttonhole.
Your projects can be personalized with a name or phrase with the block style built in alphabet and numeric stitches.
The LCD screen gives easy viewing of the stitch settings. You can see the number and image of the selected stitch as well as the length and width.
You can elongate some decorative stitches and also select the mirror image    function, great for quilting and embroidery projects.
This machine also come with a stitch memory and edit function allowing you to create personalized patterns and then save them for future use.
The Threading System is a great time saver along with the automatic needle threader. You can guide the thread through the single groove from the spool and thread the needle by pressing the lever, simple and quick!
The push of a button lets you switch to Automatic Twin Needle Mode quickly and easily. The twin needle decorative stitches are also accessed via a simple push button.
The optimal settings for stitch length are already set but these are easily changed within the settings.
The programmable needle up/down feature lets you stop the needle in the highest position, great for quilting and applique.
There is a presser foot sensor which has an error message and a buzzer. The machine won't sew if the presser foot is raised, another useful feature for when you're so engrossed in your project you forget to put the pressure foot down and end up with a pile of bunched thread!
The special DROP & SEW™ Bobbin System means you don't have to raise the bobbin thread before you sew, it's literally "DROP & SEW."
Three lamps illuminate the sewing surface using STAYBRIGHT™ LED Lights. Stay bright lights stay remain to the touch and are long lasting with approximately 100,000 hrs of use.
An extra-long arm of 14.7″ gives a more spacious work area, essential when working with large projects and quilting.
Sew at your own speed with the speed control and stop/start button, can be used without or with the foot control.
The extra high pressure foot lift is another essential for quilters, offering more clearance when working with bulky and multiple layers of fabric.
Solid and durable machine due to the heavy duty metal frame and internal rigid support, this machine is built to last!
Speedy machine with sewing speeds of up to 750 stitches a minute.
Automatic Push button reverse for reinforcing the stitch.
A free arm feature let you easily sew cuffs, collars, pant hems etc.
Convenient storage in the removable storage section.
Included Accessories
All-Purpose Foot.
Blind Hem Foot.
Satin Stitch Foot.
Buttonhole Foot with underplate.
Zipper Foot.
The usual needles, bobbins, thread spool caps, extra spool pin, spool pin felt,spool caps, screwdriver, lint brush, seam ripper and soft cover.
Extra Accessories:
Beading Foot.
Braiding Foot.
Chenille Stitching Foot.
Cording Foot.
Darning / Freehand Embroidery Foot.
Edge Joining Foot.
Fancy Trim Foot.
Fringe Foot.
Invisible Zipper Foot.
Open Toe Foot.
Roller Foot.
Wing (Hemstitch) Needle,
Presser Foot Shank.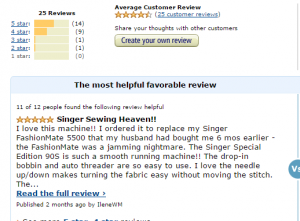 Amazon customer reviews give this machine a rating of 4.4 out of 5 stars.
There were very few negative comments, most of them were related to the poor instructions.
Cons
The "extra large working space" is to the left of the needle area, the space to the right is actually quite small which could be an issue with bulkier projects.
The instructions are a bit sketchy, beginners would struggle to understand some of the features.
It's a bit noisy compared to the Brother PQ1500S High-SpeedQuilting and Sewing Machine.
Pros
The Singer Sewing Machine looks nice and sews a good straight stitch!
The storage drawer which sits at the end of the machine is a good size and conveniently located.
There are a lot of extra feet included which is not usually the case with a mid-range machine, you usually have to buy them as extra accessories.
I like the stitch elongation feature and the 6 automatic buttonholes.