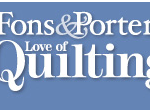 UPDATED – no longer free but still some great patterns
If you've been quilting even for a short time then you've probably heard of Fons and Porter and their fab quilting magazine. They also have a website chock full of information and today I'm going to have a look at the selection of Fons Porter Patterns.  First though, let's have  a brief look at the Fons Porter history and how they got to where they are today.
Marianne Fons Bio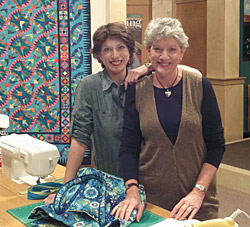 Marianne Fons has been quilting for over 3 decades and started around the time of the American Bicentennial in 1976 when she was 25. She won a blue ribbon at a state fair in Iowa in 1979 with her first "significant" quilt. In an interview over at APQS (long arm quilting machines) she says "there wasn't much competition!"
Marianne took a basic quilting class and that's where she met Liz Porter, which then resulted in them forming a club. She started to teach quilting in the 70s through the 80s and then she started writing quilting books. This eventually led to the well-known TV show and then to the magazine and website. Marianne's daughter Mary now works with her since the retirement of Liz Porter.
Liz Porter Bio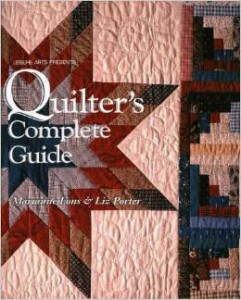 Liz Porter started quilting in the late 70 when she lived on an "out in the sticks" farm with her 2 small children. Her Grandma and Great-grandma were both quilters so she grew up fascinated by this craft. She is mainly a self-taught quilter but asked for help from her elderly babysitter and even older Mother when she got stuck!
From here her bio reads much the same as Marianne's and between them they have written many books including the well-known and popular "Quilters Complete Guide. She has now retired to spend more time with her Grandchildren and quilting has once again become a hobby for her
Fons Porter Free Patterns
Fons and Porter have many free resources on their website "Love of Quilting" including their good selection of Fons Porter free patterns.  The patterns are grouped into sections and easy to access, here are some of them:


Appliqué –There are 5 designs in this section but my favorite is "Palm Trees"  inspired by Hawaii. This applique pattern would look great at the center of your quilt and would enhance the look of an Hawaiian themed room.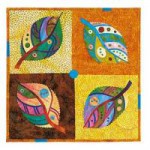 A close second is the pretty "Autmun Leaves" pattern. This pattern is a great way to use your fabric scraps (we all have them!).
Embroidery – These free embroidery patterns are for digital embroidery machines, come in "ZIP" file formats for you to download and are available for a variety of machines.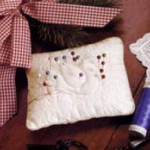 I don't do much embroidery but am tempted to try the "Dove Quilt" pattern, it really is very pretty!  the other patterns are: Digital Thread Quilt Painting, Embroidered Basket, Falling Leaves,and Herky Jerky Kites Design.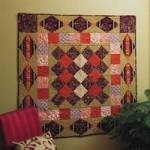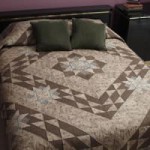 Bonus Quilts – There are THREE pages of free quilt patterns here, I definitely agree with the "bonus" description! From the charming "Wine and Lime" wall hanging to the beautiful "Heart and Soul" bed quilt pattern; there's something for everyone in this section.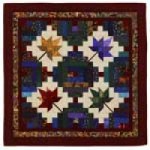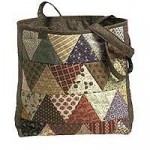 Quilt Designs – There are even more quilting projects on this page, I particularly like the "Keepsake Quilting Batik Bag," it's going on my list of "projects to make." The "Autumn at the Courthouse" is made using the ever popular log cabin blocks is another favorite, a bit tricky to do being at the intermediate level but still one I'd like to try.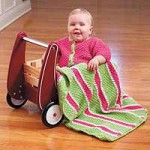 Love of Knitting – A few free knitting patterns in here, although I was surprised to see them! Thinking about it though, in my experience most quilters/sewers also do a bit of knitting, I know I do. I love the baby sweater and knitted blanket, this is one I'll make for my Granddaughter.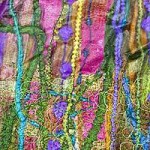 The ribbon wrap is an interesting one, made by sewing ribbon and yarns together using a water soluble film to sandwich the layers together. I haven't seen this technique before but it's very effective, gives a shimmery effect to the wrap.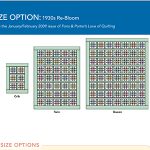 Size Charts – A really useful addition to this section, with pages of size charts for a whole raft of different designs. I see so many nice quilt patterns it's good to see instructions for sizing for your chosen project
These are just a few of the patterns available, to see the whole collection of Fons Porter free quilt patterns pop over to their website and choose your next project!