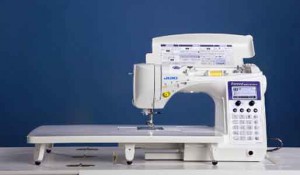 What are the things to take into account when you're looking for a sewing machine for quilting?
Choosing a machine for quilting is a much different proposition than choosing one for basic occasional use. If you're on a limited budget it's more important to have a reliable machine that sews well than have extra bells and whistles on an unreliable one.
Sewing Machine for Quilting – essential things to look for
A good straight stitch – essential when piecing fabric together.
The option to disengage feed dogs – needed for free motion quilting.
Variety of feet – these add extra functionality and a walking foot is a must for moving the 3 layers through evenly.
Throat space – this is the space on the right of the needle where your quilt will get shoved through during quilting, the bigger the better!
Variable speed motor – helps to give good control when free motion quilting.
Extension table –  to the left of the needle for those larger quilts.
Marked measurements on the needle plate – this makes it much easier to achieve accurate 1/4″ seams.
Build quality – it's important to check this. Sewing quilts puts a heavy strain on any machine, a flimsy plasticky machine won't last long.
Lighting – look for sewing machines with more than one light that are angled well onto the work surface. Bright LED lights are the best.
Instructions – are they easy to follow and does the machine come with a DVD?

Extra Features to look for

PC Connectivity – the higher priced machines can connect to your PC for more pattern combinations via special software. You can also create your own designs with a quilting pattern software system..
Number of stitch patterns  – on computerized machines – More patterns means more creativity! Look for dedicated quilt stitches, most computerized sewing machines should have some.
Automatic Tension – this is a feature I love on any machine,  never having to fiddle to get the tension right!
Needle up and down control. This can be set to lift when sewing stops or to stay in the fabric (for pivoting around corners.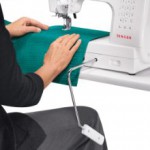 Knee Lifter – This is an attachment that lets you use your knee to lift the foot, leaving your hands free.
Stitch regulator – this adjusts to the speed of the sewing machine automatically and produces stitches of precisely the same length. Used when the feed dogs are lowered for free motion quilting. Some companies have their own patented versions of a stitch regulator.
As I said, it's more important to have a sturdy machine that sews well. You don't have to have all the above features, but if you can get a good quality machine with these extra features within your budget then do so!
Makers of sewing machines for quilting.
There are many makers of quality sewing machines today, some you will already be familiar with, like Singer and Bernina, they've been around a long time. Most people who own a sewing machine have their favourite sewing machine maker.
Bernina – founded in 1893 in Switzerland and still owned by the same family.
Babylock – A division of Tacony Corporations started in 1946.
New Home – No longer operating, finished in 1955 but models are still available second hand.
Brother – Started in Japan in 1908, the european side being established in Dublin in 1958.
Elna – Founded by Dr Ramon Casas Robert, a spanish engineer. The first machines for the home market were produced in 1940.
Singer – Founded in 1851 by Isacc Merrit Singer and Edward Clark, a New York lawyer. It was bought over in 2004 by SVP Worlwide which is owned by Kohlberg & Company.
Janome – Founded in 1921, this is another Japanese company. The American side is based in New Jersey.The company also owns Elna and the sewing machines are manufactured in the same factory.
Juki –  More well known for industrial sewing machines this Japanese company recently started to sell domestic sewing machines.
Kenmore – owned by Sears the name Kenmore appeared on sewing machines in !913, known for inventing the "free arm" now common on most models. Sears recently stopped selling Kenmore machines.
Pfaff – Founded in Germany in 1862 by George Michael Pfaff an instrument maker. Now owned by SGSB Co.Ltd and built all over the world.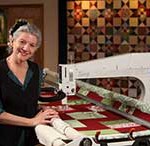 Another alternative is a long arm quilting machine, there are different makes and models varying in price. These are dedicated quilting machines and, generally command a higher price than a domestic sewing machine for quilting. I've gone into more detail about the ins and outs of long arm quilting machines which you can read here.
You can also look for a good quality second-hand machine, sometimes you'll find a better machine within your budget than going for a new model. Always try the machine out first and check all the accessories are there. Make sure on full computerized quilting machines that the connections work and the software is included. (if applicable).
As quilters, we have a lot to choose from and can make sure we find one that best suits our needs and budget. That's good for us, but make sure you do your homework! You can check out my review page for some unbiased reviews of sewing machines for quilting.