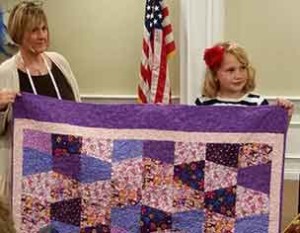 This lovely story about how an 8yr old quilter and former foster kid pays it forward is worth a share I reckon!
The CAMACO Quilt Guild provided over 50 hand-made quilts to Court Appointed Special Advocates (CASA) for Children on Nov. 11 at their month-to-month meeting at the Millmam Center in the Villas, N.J.
For 4 years in a row Guild members have donated quilts to kids staying in foster care in Atlantic and Cape May Counties. Throughout the year, the quilts that CASA receives are donated to children living in foster care as a gift from the Guild.
"This year was unique as we had an 8yr old quilter, the youngest in the group, make a quilt for CASA," said CASA Director of Community Development Karen DeRosa.
Kenadie Hanagan is not only the youngest quilter in the group, she comes from three generations of quilters,who all hail from Villas, N.J. Her granny Carolyn Kohler and her auntie Denise Bongiovanni, also stitched quilts for CASA. This is a special story though ad Kenadie herself spent time in foster care prior to being adopted by the Hanagan household. She even had a CASA volunteer.
"She is actually really good at good at sewing," says mother Sherrie Hanagan. "My mom made all of her own clothes when she was a teen, and then went on to make all of mine and my sister's clothing as we were growing up," stated Hanagan.
Kenadie started quilting with her auntie and grandmother over summer season with the objective of having a quilt to contribute to CASA.
"She has just been sewing for a year, after getting a sewing machine as a Christmas gift last year," said Kenadie's mom.
"Kenadie's story is so special, in that she spent time in foster care and had a CASA volunteer who spoke for her. Now here she is, adopted by a caring family, finding out the households' traditions and passing on a quilt that she made herself onto another child living in foster care," stated DeRosa.
"It's the circle of life; providing, getting and giving once again. We are so pleased with Kenadie's empathy for other youngsters, and her sewing abilities, that we have her quilt on display screen in our office for now so we can continue to sharing her story with others.
Source – http://www.capemaycountyherald.com