Brother HC1850 Review
Brother claims that the HC 1850 is perfect for:
"sewing, quilting, and basic monogramming. Designed for versatility and ease of use, this machine includes a hassle-free, built-in stitch reference flip-chart".
Because we are quilters it's good to see some specialized quilting features which include a detachable large table, spring action quilting foot, and the ability to do free-motion quilting.
The HC1850is also portable and light-weight, and perfect for taking to classes.
Brother HC1850 
Functions and Features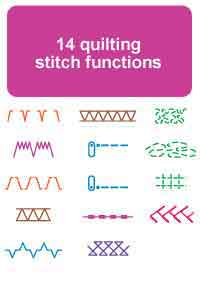 Included are 130 unique stitches, consisting of 8 styles of 1-step buttonholes, 14 quilting stitches, plus 55 alphanumeric sewing stitches for standard monogramming. You also get:
 8 quick change presser feet – I'm pleased to see the inclusion of the spring action quilting foot with the HC1850. Not all budget machines, or even the more expensive ones include this. Generally it comes as an optional extra. The other presser feet are:

Buttonhole foot
Overcasting foot
Monogramming foot,
Zipper foot
Zigzag foot
Blind stitch foot
Button fitting foot (good to see this included)

Push-button stitch selector – self-explanatory but a handy feature to have!
Adjustable stitching speed
Automatic threading system
Removable foot controller
 Specialized feed system that lets you stitch on virtually any material
130 built-in stitches, consisting of 8 one-step auto-size buttonhole designs
1 integrated monogramming sewing typeface, ideal for standard monogramming
170 stitch functions for garment building, quilting, ornamental and heirloom sewing
Hassle-free flip chart connected to front of machine shows all built-in stitches
Detachable wide table for bigger tasks
Large Backlit LCD with intuitive push-button stitch selector
Super intense LED-lit workspace
Easy threading system, and automatic needle threader
Super easy bobbin winding system
Quick-set ™ drop-in bobbin
Operation with or without included foot controller pedal
Lightweight with built-in handle for mobility
Includes English/Spanish training DVD and operation handbook
There is also 25-year limited service warranty a free telephone support line available for the life of the HC1850
Performance
It's all good and well to have lots of bells and whistles but how does it perform, specifically for quilters?
For someone who is new to quilting, the Brother HC1850the perfect starter machine. The instructions are easy to follow and the operation smooth.
As you get into more complex designs and free motion quilting the Brother HC1850 doesn't perform as well.
Although having a machine that is light in weight can be a good thing, it also means that when you try to run thick heavy quilts through it, it starts to struggle.
There have been some reports about problems with the auto threader breaking, but support has resolved the issues quickly.
Here is a review from one happy customer:

 Cons
Lightweight, struggles with denser bulkier projects.
Recurring problems with the auto threader.
Pros 
Lightweight (can be good or bad depending on your requirements for a sewing machine), so suitable for taking to groups and classes.
Sews a neat stitch and is easy to operate.
Instructions are easy to follow which also makes it a good machine for beginners.
Specialized quilting accessories and functions.  
Buy the Brother HC1850 Computerized Sewing and Quilting Machine with 130 Built-in Stitches, 9 Presser Feet, Sewing Font, Wide Table, and Instructional DVD