When I was under the weather recently I wasn't able to sew  but was getting pretty fed up not being creative. Then I discovered that you can actually get coloring books for quilters!
It might seem extreme, but I was SO excited! Have you enjoyed "helping" your kids and grandkids with their coloring in books? Now, adult coloring books are all the rage, people have realized the therapeutic benefits.
Did you know that this theory goes right back to Carl Jung (a well-known psychiatrist and psychotherapist who founded analytical psychology)? There are many excellent articles on the therapeutic benefits of adult coloring books so I won't go into that here (this one for example).
Anyway, I just wanted to share with you the coloring books for quilters I've found (and purchased!) as well as the coloring pencils I used.
Coloring Books For Quilters
The Farmer's Wife Sampler Quilt Coloring Book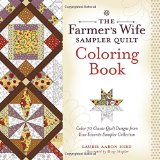 The coloring book that caught my eye first was The Farmer's Wife Sampler Quilt Coloring Book.
Published by Fons Porter, this coloring book is based on the bestselling Farmer's Wife Sampler Quilt series by Laurie Aaron Hird. There are 144 perforated pages and many of them have the same blocks with highly detailed fabric designs for you to color.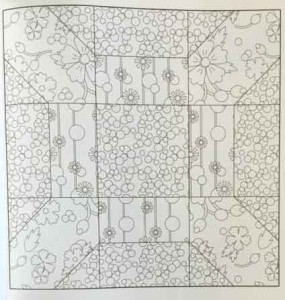 Some elements of the designs are small, you need to keep your pencil points sharp! This wasn't an issue for me really, I just had to concentrate harder!
Because the pages are one sided, you can use different mediums to color without spoiling other pictures. If you're using paint or gel pens, put scrap paper between or remove from the book completely to avoid bleed through (ask me how I know!)
One thing I didn't like, the paper isn't white, it's a sort of cream/ivory color. There is also some repetition between sets, more variety would have been better. Having said that, the repetition could work well if you wanted to create a large display from all the squares.
Overall, I'm enjoying this coloring book, a few niggles yes, but still a good buy.
Buy The Farmer's Wife Sampler Quilt Coloring Book

Grandma's Quilts: Coloring Books for Grown-Ups
Featuring hand-drawn illustrations by artist Cheryl Casey, Grandma's quilts has 88 pages and again, 1 sided.
The patterns are inspired by traditional quilt patterns and fabrics, a lot of the old classic designs are in there. Most of the designs fill the page from margin to margin and are full size 8.5 by 11″.
The book provides plenty of variety, and all of the designs are very detailed, you could use these designs to provide inspiration for actual quilts.
Again, you need to keep your pencils sharpened, but I like to do this anyway, it makes a better job.
Not as many pages as the Farmers Wife one, but it comes in at a lower price point and the paper is white!
Buy Grandma's Quilts: Coloring Books for Grown-Ups, Adults

Coloring Book of Quilt Blocks & Designs
You can buy quilt design software programs  to help you decide what colors you want in your next quilted project, but this is another way of choosing colors (cheaper too)!
There are 64 pages containing 29 quilt block designs presented first as 12 blocks on a single page. Then, on the following page, the design is shown as a full-page coloring design.
Because each section of the book makes up a whole quilt so you can play around to give you ideas on how to put together for an actual quilt.
I like this one for when grandchildren visit, the designs are easy to color in than the previous 2 and not so much pencil sharpening needed!
Buy the Coloring Book of Quilt Blocks & Designs

Colored Pencils
Finally, you'll need some colored pencils! I didn't want to spend too much on these, coloring books are only an occasional pastime for me. They come in a wide range of prices and quality, from ones you can buy from a dollar store, to very expensive ones at specialist art supply stores.
I chose Sargent Art 22-7251 Colored Pencils, not top quality but they do a good enough job for me. They don't keep breaking when you sharpen them or when the kids press a bit heavily.
You get a pack of 50 assorted colors, 48 are different colors, 2 are an extra white and an extra black pencil. They're 7″ long, ready sharpened and AP certified. A nice touch is the color names written on the pencils.
I'd definitely recommend these if you're looking for decent pencils at an affordable price!
Buy Sargent Art 22-7251 Colored Pencils, Pack of 50