Brother Designio DZ3400
According to Brother, the Brother Designio DZ3400 computerized sewing and quilting machine has been designed for artistic crafters. Brother says it can:
"help you give your projects a customized, high-end look".
It has plenty of features, a slide off accessories tray and a free arm. Included in the package is a circular sewing attachment, great for pivoting.
The 270 stitches are easily accessed with the guide being on the from of the machine, the Designio DZ3400 is also a nice color!
The Designio DZ3400 comes with plenty of included accessories, including the essential walking foot. It's a great price at the moment with a HUGE reduction on the listed price, but is it worth it?
Brother Designio Features

The included presser feet are:
Zigzag foot (on machine).
Buttonhole foot.
Zipper foot.
Button sewing foot.
Overcasting foot.
Blind stitch foot.
Monogramming foot.
Quilting foot.
Walking foot with quilt guide.
1/4 ( piecing ) foot.
Stitch Guide foot.
Metal Open Toe foot.
Adjustable Zipper.
Piping foot.
The other included accessories are an accessory bag with needle set, twin needle, ballpoint needle, seam ripper, cleaning brush, screwdriver, extra spool pin, 4 bobbins, bobbin clip, eyelet punch, DVD instructions and an 0peration manual.

Brother Designio DZ3400 Performance
This Brother Quilting Machine has plenty of features to make it attractive to quilters.
The included extension table is great for larger projects, although the throat space isn't huge, you need to roll pretty tightly! It's good for free motion quilting and can go through multiple layers easily.
The metal open toe foot is great for decorative stitches with the stitch guide foot helping you create perfectly spaced rows of sewing.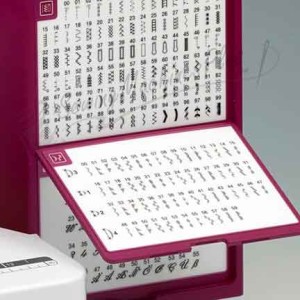 I love the way you can access design stitches so easily, just flip up the front to reveal more, this is a well thought out touch from Brother.
Another nice touch is the ability to monogram, always nice to add a personal touch to your quilt projects.
The  LCD display is described as being well lit, it's actually a bit dim so you'd probably need extra lighting for more detailed work.
This Designio is not easy to setup and the instructions aren't great. On the plus side, Brother do have a good support section, so if you're a beginner you might need to access it!
The self-threader isn't great, but to be honest, I've found this the case with most machines and generally just thread up manually.
This sewing machine is light enough to be portable so you can take it to groups and classes.
This video from Brother shows the DZ3400 in action and gives you an idea of the size and types of projects you'll be able to create.
Cons
Dim light.
Tricky to set up.
Quite noisy.
Pros
Good selection of included presser feet.
Lots of decorative stitches.
Included extension table.
Monogramming feature.
Light enough to be portable.
Brother 25 year limited manufacturer's warranty.