Juki tl 2000qi Long Arm Quilting Machine
The Juki tl 2000qilong arm quilting machine is not strictly a long arm machine but is classed as one for domestic use.
Juki is more well known for industrial machines and have produced theTL-2000Qi for the domestic market.
This Juki is marketed as a "high-quality sewing and quilting machine, portable and lightweight, constructed of aluminium die-casting to ensure industrial-quality sewing." It has a large work area of 23 inches so can handle large quilts with ease.
FUNCTIONS AND FEATURES
Automatic Needle Threader.
Automatic Thread Trimmer.
12mm Extra High Foot Lift.
Extended Flat Bed.
Drop Feed Dog.
Needle Up/Down Button.

1500 SPM.

Low vibration due to the aluminium die cast frame.
Speed control.
Extended flat bed.
The Juki tl 2000qi long arm quilting machine features in closer detail

.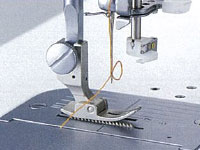 The automatic needle threader works with a push lever allowing you to thread the needle quickly and without eye strain. It also gets you back to your sewing project quickly!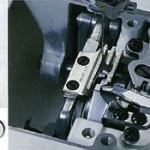 The automatic thread trimmer function is worked with a gentle push of a button, trimming both the top and bottom threads. The trim button engages the Juki's advanced industrial style thread trimming mechanism. Just rock your heel back on the foot pedal for fast trimming.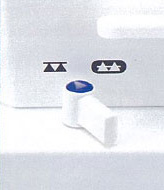 Free motion quilting made easy by the simple methods of depressing a switch to lower the feed dogs.
This allows you to sew curved stitches with ease and precision.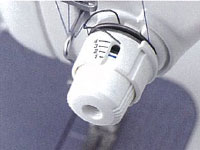 The thread tension scale allows you to adjust the tension according to the thread and material to be used.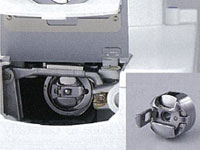 The new bobbin case latch and  large bobbin case area make it easy to remove and replace the bobbin.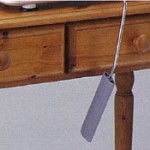 An almost essential feature for free motion quilting is the knee lifter. The knee lifter level allows you to lift/lower the presser foot without using your hands. It can also raise the pressure foot as much as 12mm.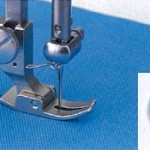 When you stop sewing, the machine automatically stops with the needle in the down position; this allows for pivoting and accurate free motion work.
The needle up/down feature lets you raise or lower the needle with the simple push button.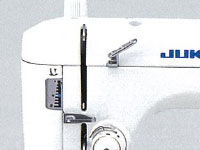 Easily adjust the presser foot pressure by turning the regulator at the top of the machine. A useful feature for working with different fabrics.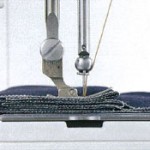 With the microcomputer controlled, speed control mechanism you can sew materials with ease at slow speeds. When sewing with multiple layers or heavy fabrics this feature provides accurate feed and perfect stitching.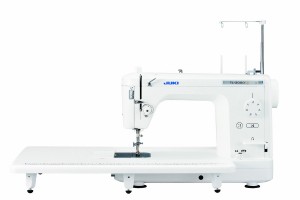 The extended flatbed on the Juki tl 2000qi allows you to work with large scale projects, ideal for those patchwork bed quilts.
INCLUDED ACCESSORIES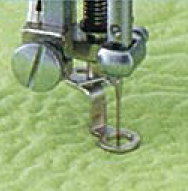 The Juki TL-2000Qi comes with a range of useful accessories. I particularly like the 1/5 quilt foot, great for free motion quilting.
Standard Presser Foot.
1/5 inch Quilt Foot.
Even-Feed Foot.
Auxiliary table.
Exclusive screwdriver.
Screwdriver (small).
Cleaning brush.
Bobbins (4pcs.).
Oiler.
Needles.
Spool cap.
Sewing machine cover.
Knee lifter lever.
REVIEWS
The Juki TL-2000Qi sewing machine gets excellent reviews. Some comments are
"I'm having a great time with my Juki it's easy and a hard worker. I recommend this machine to any quilter out there."
"Bought as a gift for my wife. For the price this machine can't be beat."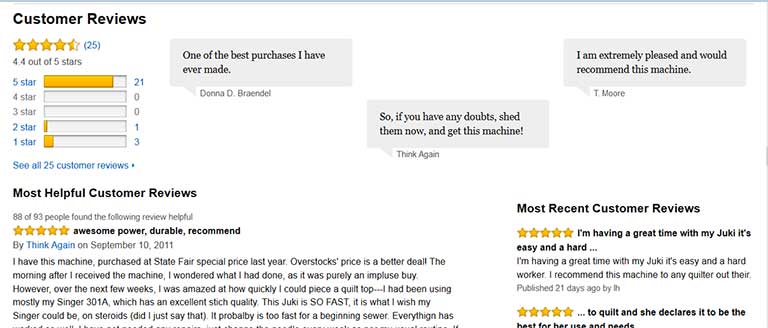 CONS
It only does a straight stitch, some quilters might find this limiting, especially if they do applique.
The fast speed means it's not really suitable for beginners.
PROS
The Juki tl 2000qiis light enough to be portable with the features of an industrial machine.
It excels at straight stitching; piecing a quilt can be super fast with this machine.
Unlike some machines, the automatic thread cutter works as it should.
Space is a must for serious quilters; the extra-large table fulfils this requirement.
Buy the Juki tl 2000qi long arm quilting machine