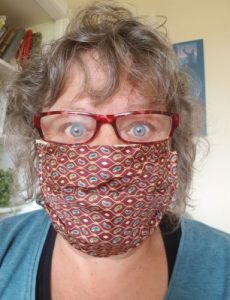 I've been making face masks from fat quarters and old scraps of fabric, much prettier then the ones you can buy! Fat quarters work well for this pattern and SO easy to make.
They are nice and comfy, no elastic is used, the ties are made from stretch t-shirts.
I've also been using the fat end of my Dad's silk ties. He died 6 yrs ago and had a fabulous collection of ties. They've been sitting in my wardrobe waiting for me to "do something with", finally, I've put some to good use and I know my Dad would approve!
My top tip for this project, USE YOUR IRON!