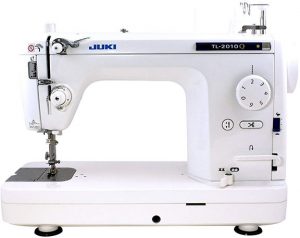 The Juki TL-2010q  is a sturdy workhorse of a machine, just what it looks like and great for quilting!
It doesn't have lots of bells and whistles but, like all Juki machines, what it does, it does exceptionally well.
It has a minimalist look, fresh white and sturdy looking. The controls are simple with helpful diagrams on the buttons for things like feed dog control.
The turtle and rabbit image for control speed are a nice touch!
This is a big machine, like a cross between a home and industrial sewing machine, especially by the time you have the extension table on.
The Juki TL2010q has a HUGE throat space something all quilters need, needle to the machine is 81/2 and the opening is 6 inches tall.
This quilting machine is portable with the built-in carry handle, on the heavy side at 38lb but what you would expect for a solid workhorse sewing machine.
Like other Juki machines, this one doesn't disappoint
Specs
Weight: 37.9 lbs
Dimensions: 25.7 x 18 x 14 inches
Stitches: Straight stitching, forward and backward
Speed: 200 stitches per minute (min) – 1500 stitches per minute (max)
Computerized/Mechanic: Mechanic
Bobbin: Side-loading bobbin
Warranty: Five years for mechanical defects, two years for electrical defects
Juki TL-2010q Accessories
You get some useful accessories included, many manufacturers make you pay extra so definitely some extra points here!
General sewing foot
Piecing foot
Zipper foot
Blind hem foot
Walking foot
Two different darning feet
A point to note, the user manual isn't great, however, Juki is so popular there are many videos users have posted to help you get the hang of things like this one for threading.

This is the link to Juki's own channel.
Juki TL-2010q Features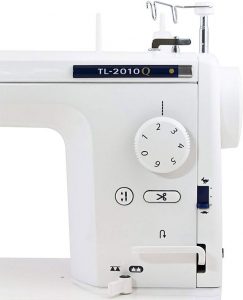 This Juki has some nice little features
Thread Cutter – There are 2 options for snipping your threads on this Juki quilting and sewing machine. You can simply tap the button with the little scissors icon on the left side of the machine. If you don't want to break your concentration by looking away from your work, the other option is to hit the built-in thread-cutting pedal with your foot. The pedal has the same function as the button, but the thread-snipping pedal requires a fairly hardy push, so you won't hit it by accident.
Needle Up/Down Button – You can still raise or lower the needle manually if that's your preference.
Automatic Needle-Threader and Bobbin-Winder – Another time saving feature, more ways that the Juki TL-2010Q can speed up your quilting projects. It's bit tricky to work out how to use but I linked earlier to Juki's own YouTube Channel so help is on hand if you get stuck.
Adjustable Speed – There are a minimum setting of 200 stitches per minute and a maximum of 1500. This feature means you don't have to control the speed exclusively with the foot pedal.
Adjustable Stitch Length – Another handy feature, to adjust the stitch length up to 6mm. As well as handling cottons and softer fabrics, The TL-2010Q can also handle multiple layers of thicker fabrics and soft leathers if that's what you need so the stitch length is important here.
Extension Table – Excellent for large projects. Combined with the large throat space this will really help with those bulky quilts.
Pros
The Juki TL2010q sews like butter, solid and dependable allowing bulky quilting projects to be sewn with ease.
It comes with useful accessories, one of which as a good quality walking foot and a great size extension table.
It winds perfect bobbins.
The stitch is consistent and it feeds the piecing very well with the feed dogs take the fabric easily.
This quilting machine is excellent free-motion quilting, your skills will improve in no time with this Juki quilting machine
It has a knee-lift and a needle up-down which is essential in quilting.
Cons
Poor user manual
Led light isn't great, you'll probably need extra lighting.
If you want a solid, dependable machine for ree-motion quilting without spending a fortune the Juki is the one. It's also an excellent machine for any type of straight sewing, not just quilting.