The Singer Quantum Stylist 9960
The SINGER 9960 Quantum Stylist 600-Stitch Computerized Sewing Machine with Extension Table, Bonus Accessories and Hard Cover is a multi-function computerized sewing machine suitable for all levels, from beginners to experienced.
It has an array of functions and features not usually available at this price point.
If you have a basic sewing machine and want to move on to more complex sewing projects like quilting you should consider this one.
One machine I purchased for around the same price only had 5 presser feet and nowhere near the amount of stitches. Some of the features are:
Quick and easy set up with an automatic needle threader and a top loading drop in bobbin.

There are 600 built-in stitches including 13 styles of one-step button holes and 5 font types.

You can control the look of the stitch pattern exactly with the stitch editing function by using mirror imaging and elongation.

The automatic thread cutter trims the both upper and lower threads.

The auto pilot and speed control makes sewing difficult areas easier to manage.

Large throat space means more room for working on large projects.
600 Stiches on the Singer Quantum Stylist 9960
You'll never be stuck for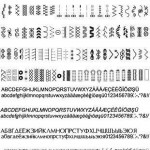 creative inspiration with this comprehensive choice of bult in stitches. There are:
13 buttonhole styles
103 utility sewing stitches
34 decorative stitches
5 different fonts and 90 upper case and lower case characters
There is a reference chart on the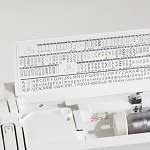 lid of the machine which flips up and allows you to easily choose your stitch.
With all these stitches available there's no end to the kind of decorative projects you can do. From the simplest heart edged cushion to more complex quilting the Singer 9960 has it covered.
Most of the stitches can
be changed in a number of ways. You can change the length, the width and also do a mirror image. So rather than having to turn your fabric to create 2 rows of pattern facing opposite ways, just switch to the mirror image. This function is particularly useful if you're working on a large piece, you don't need to drag it through the throat of the machine to turn it.
Stitches can be increased to 5 times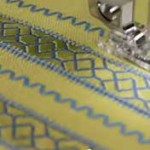 their size with the elongation button. With the digital information advisor, it's easy to create combinations of stiches with the touch of a button.
Automatic Buttonholes
One of the questions I get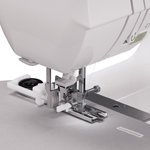 asked the most is "does it do automatic buttonholes?" Some machines will claim this function but there is still more than one step required to achieve it. TheSINGER 9960 Quantum Stylist offers a simple one-step process with 13 automatic sizes.
The sides of the buttonholes are sewn in the same direction to prevent gaps in the stitching or distortion of the fabric. The Singer 9960 Quantum Stylist has an exclusive buttonhole underplate which holds multiple layers of material in place. This is useful when you are sewing buttons in multiple layers  or thick fabrics.
Singer Quantum Stylist 9960 Presser Feet
One of the best features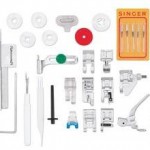 of the SINGER 9960 Quantum Stylist is the included 18 presser feet. I've seen as many as 10 before but not 18 and especially not at this price. You'll never need to shell out for an extra presser foot again! The presser feet included are:
All-Purpose Foot – for general sewing on most fabrics.
Zipper Foot – makes it easier to insert zips
Buttonhole Foot – fully automatic for sewing perfectly sized buttonholes sews perfectly sized buttonholes with the addition of the Exclusive Buttonhole Underplate.
Button Sewing Foot – easily attach buttons.
Blind Hem Foot – for creating invisible hems.
Satin Stitch Foot – transparent for easy viewing and particularly useful for applique.
Open Toe Foot – also used for appliquéing plus decorative stitching and embellishment.
Overcasting Foot (Overedge Foot) – for adding a seam finish at the edge of the seam allowance.
Darning and Embroidery Foot – for repairing rips and tears and creating freehand embroidery. Also useful for monograms and stipple quilting.
Rolled Hem Foot (Narrow Hem Foot) – for sewing a narrow rolled hem on light and medium weight fabrics.
Cording Foot – for adding surface embellishment using cords, yarn or fine braids.
Straight Stitch (1/4-Inch Quilting Foot) – multi-purpose for 1/" seam on quilts, small projects with a narrow seam allowance and useful for sewing lightweight fabrics like chiffon.
Even Feed Foot (Walking Foot) – what every quilter wants this foot is used for sewing several layers of fabric.  It's also useful for matching stripes and plaids.
Adjustable Bias Binder Foot – beautiful edge finishing using bias tape.
Single Welt Cording Foot – gives a  professional finish on upholstered and home furnishing projects.
Braiding Foot and Guide – for trims, embellishments, braids and cords.
Stitch-in-the-Ditch Foot – another quilters tool for getting perfect seams and edges on quilting projects.
Fancy Trim Foot – decorate your projects with colorful sequins and fancy trims.
The Clearance Plate – for sewing buttons in place and sewing over heavy seams.
The Presser Foot Shank – used in conjunction with the bias binding foot, clear piping foot, braiding foot, stitch-in-the-ditch foot, fancy-trim foot, and cording foot.
 More Functions and Features of the Singer Quantum Stylist 9960
The full list of function and features of this machine makes for a long list, all the more reason to buy one for an incredibly low price!
Automatic Thread Cutter means touch button cutting of upper and lower thread.

Automatic Needle Threader a great time-saving feature.

Automatic Stitch Length & Width are set automatically but can be changed for personalized sewing.

Needle Up/Down Button means just button press for needle up or down.

Extension Table Included and an essential for quilters or large projects.

Large Back-Lit LCD Screen with Brightness Control for easy viewing of all the settings with adjustable screen brightness.

Top Drop-In Bobbin System makes bobbin loading easy. There's also a clear cover for monitoring the bobbin thread.
Electronic Auto Pilot means you can sew without using the foot pedal. Set you speed with the simple slide lever.

2 StayBright™ LED Lights means you have 2 lights illuminating the sewing surface and the bulbs are always cool to the touch

Heavy Duty Metal Frame gives you a robust machine for durability and longevity

25 Needle Positions lets you change the needle position for individual projects.

Electronic Twin Needle Settings gives easily adjustable settings for twin needle sewing.

A Drop Feed lever lowers the feed dogs for many different types of projects.

7-Segment Feeding System is a specially designed system for accurate feeding of fabric from the front of the presser foot to the rear.

The Box Feed is a function that is different from the common arc motion in that it moves the dogs in a box motion. This gives equal contact with the fabric and the presser foot.

Automatic Locking Stitch Function means you can tie of stitches with a simple button push

High Sewing Speed gives a maximum speed of 850 stitches a minute.

Automatic Bobbin Winding Clutch means the needlebar disengages when winding bobbins.

Automatic Tension is a great feature on any machine, no fiddling for hours to get the perfect stitch
Extra-High Presser Foot Lifter has 2 heights, perfect for clearance of bulky or multiple layers of fabrics.

Free Arm for sewing collars, cuffs and difficult to reach areas.

Center Zigzag Taper is a great feature for applique tapering the stitch to a point.

Automatic Presser Foot Pressure Control means no adjustment is needed whatever the weight of the fabric

Error Warning gives you a warning if something is wrong with the LCD screen showing the probable error.

Optimum Power Control senses when extra power is needed for changing conditions. Very useful when sewing though multiple layers of fabric.

Snap-On Presser Feet lets you snap presser feet on and off quickly, no screwdriver needed.

On Board Storage gives easy access to accessories.

Singer Quantum Stylist 9960 Included Accessories



Extra Wide Extension Table.
Pack of Needles.
Bobbins (Class 15J).
Seam Ripper.
Lint Brush.
Spool Pin.
Spool Pin Felt.
Screwdriver (2).
Spool Cap (2).
Seam Guide.
Quilting Bar.
Clearance Plate.
Shank for Presser Feet.
The Singer Sewing Machine Company's official video gives you a walk-through of how the Singer Quantum Stylist 9960 performs.
 ADDITIONAL INFORMATION
Warranty – 25 year limited on sewing machine head, limited 5 year warranty on electical components and a limited 1yr warranty on repaceable items such as bulbs and belts.
Dimension – 17.2 x 8.2 x 12 inches
Weight – 20lbs
CONS
There is no knee lifter which can be useful when sewing large items and doing detailed controlled work.
The plastic bobbin cover is a little loose.
There's no label on some of the feet so you need to keep the manual handy for this.
The pressure foot isn't adjustable.
PROS
This machine will pretty much sew through anything with good straight stitches and a smooth quiet action.
Huge choice of stitches and options.
The large throat space makes it perfect for quilters.The thread cutter is a convenient addition.
I like the 2 lit areas with cool to touch bulbs.
The added extension table is a bonus at this price point. It's rare to see this amount of presser feet included, usually they come at extra cost.
Buy the SINGER 9960 Quantum Stylist 600-Stitch Computerized Sewing Machine with Extension Table, Bonus Accessories and Hard Cover