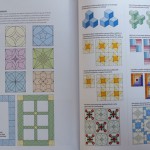 If you're a beginning quilter then one of the first terms you'll hear is "quilt block." So what is a quilt block? Traditionally, quilts were more often used to make bed covers and were sewn by hand. Because of the difficulty managing  to sew a large quilt, smaller blocks were made. These smaller blocks of fabric could be made in a variety of patterns or a repeating pattern which were then sewn together to form the whole quilt.
By breaking up the quilt pattern into manageable pieces, you can lay easily lay it down and then pick it up again, gradually building the blocks until you have enough to make the quilt.
Once the quilting blocks have been sewn together a border (strip of fabric) is used to frame the outer edges. The border is functional in that it's used to hide the raw edges, but can also add a decorative finish. Sometimes a border will be used on individual blocks.
You can clearly see these methods being used in the image at the top of the page, the quilt is the "Russellquiltera" by Russell Lee.
In years gone by families, neighbours and friends would share patterns amongst themselves which would then spread to a wider community. These patterns were the fore- runners of the thousands of patterns you see today. These days quilt blocks are also used in contemporary design, combining unique combinations and new fabrics.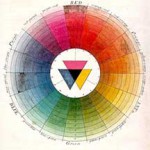 The simplest block would be made up of squares and was, and still is a great way of using up scraps. Clothing that was too well worn and darned would have been cut down and the usable pieces of fabric made into a useful item like a bed quilt. These quilters wouldn't have worried too much about colour combinations but these days quilters might use a color wheel at the start of a project.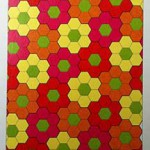 Another traditional block is made using the hexagon shape creating a simple flower.
Methods of Quilt Blocking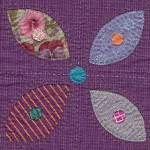 Applique – patterns of fabric are sewn onto a larger piece to form a pattern or picture. the image on the left shows an example of applique.
Paper piecing – is a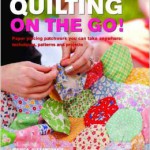 method where you stitch your fabric block with a paper foundation. It is commonly used for small blocks with intricate angles and makes it easier to achieve fine points. Once the piece has been sewn, the paper is removed. There are special quilting papers and plastics for this job. Jessica Alexandrakis has written a fabulous book called  Quilting on the Go: English Paper Piecing Projects You Can Take Anywhere which explains paper piecing in much more detail.
Quilt as you go – Not the same as "quilting on the go" mentioned in the previous paragraph. At this point, you will have your blocks sewn together so not strictly a blocking technique. Each block has the batting and backing quilted first then; these are sewn together, again making large quilts more manageable to do.
Free Quilt Block Patterns
We all love to use books, magazines and the internet looking for inspiration for our next project. There are thousands of free quilt block patterns available for every level of quilter, I've a great resource where you can download all the quilting patterns you want – for free!
So if you've been asking "what is a quilt block?" now you know! If you've any questions please feel free to comment below or contact me
Buy The Quilt Block Bible: 200+ Traditionally Inspired Quilt Blocks from Rosemary Youngs