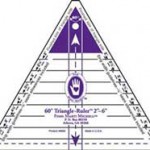 One of the questions often asked by beginning quilters is "what is a quilting ruler" and why do I need one?" I'll explain here what a quilting ruler is and how it helps quilters.
What is a quilting ruler?
There's nothing mysterious about a quilting ruler!  It's a tool that's been devised to make cutting simpler for patch working and quilting. A quilting ruler is used to make precise cuts in fabric. Generally made of clear plastic there are measurements painted across the ruler in a grid pattern. These measurements have different angles to help quilters to cut a variety of shapes. They come in different sizes and shapes but most quilters will start with a rectangular quilting ruler measuring 4″ by 12″. It is designed to be used with a rotary cutter and comes in a wide range of shapes and sizes.

Why use one?
Even with the  simplest form of patch working, squares pieced together need to be cut accurately. Yes, you can use scissors and a ruler, but you'll waste a lot of time trying to get the fabric pieces to line up properly. If the pieces aren't lined up properly the top of your quilt won't turn out like you'd hoped. Using a rotary cutter with a quilting ruler is advised, you can use scissors but you'll lose the accuracy.
Which quilting ruler do I need?
The six million dollar question!

There is a huge amount to choose from, sizes shapes and makes. For a beginner I would recommend starting with the basic 21/2 x 8 inch like this and add to your collection as you progress. For very small piecework you can buy 1 x 6 inch ruler. To avoid your fabric slipping when under the ruler look for a non-slip quilting ruler, most manufacturers offer a non-slip version. Using a non-slip cutting mat also helps the common problem quilters have of fabric slipping.
There are also specific shapes of quilting rulers available, like fan-shaped, or the popular Flying Geese and log cabin patterns. You can even buy  "wavy square" and dresden templates! Look for special offers where you can buy a quilting ruler "bundle," like this one from the well-known maker Omnigrid Ruler Value Pack 1, Package of Four
It can become expensive if you're on a limited budget so it's important to look after your quilting rulers. Don't use harsh detergents when cleaning, you want the line measurements to stay clear so the ruler serves you for a long time!
Make Your Own!
You can of course make your own templates. Creating your own templates will allow you to make identical shapes and sizes, that will fit together accurately. It's really pretty simple to do and allows for that spark of creativity that's in all us crafters!
To make a cardboard template, transfer the design onto squared paper then cut around it with sharp scissors. Glue the cut-out to a piece of cardboard, remember to include your seam allowance. Cut out the cardboard template. You can  protect the paper seam allowance by putting on a thin layer of clear nail varnish/polish.
So if you asked the question, "what is a quilting ruler," now you know. They're really a must have for any serious quilter and there is one to suit every quilting project. A well know quilter is Marti Michell who offers a wide range of quilting rulers in some beautiful designs. Check out the wide range of Marti Michell quilting rulers here and happy piecing!
Buy the Marti Mitchell Perfect Patchwork Template Set